David Hall McConnell, Sr.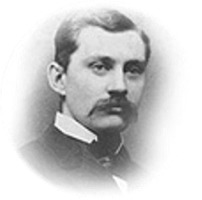 David Hall McConnell
~Probably Mid-1880's
Note: Earliest Known Photo
David Hall McConnell, manufacturer, was born in Oswego, NY, July 18,1858, son of James and Isabel (Hall) McConnell, who came from County Cavan, Ireland, in 1845 and settled in Oswego, where James McConnell became a farmer and brick manufacturer. Brought up on a farm, David Hall McConnell attended a district school and the Oswego State Normal School and was planning to become a mathematics teacher, but instead entered business life in 1879 as a salesman for a New York book selling agency. In 1880 he joined the Union Publishing Co. of Chicago and three years later was placed in charge of southern territory, making his home in Atlanta, GA. He decided that, if books could be sold house-to-house, perfumes could also.
Out of this conception grew his California Perfume Company (CPC). At first he manufactured his own perfumes at home and went during the day selling them along with books until the enterprise grew and he had to discontinue his book selling and establish a perfume laboratory in Suffern, NY. Other toiletries and cosmetics were soon added to his line of products which he sold under the CPC name. Later the company also began to manufacture flavoring extracts and other household articles sold under the brand name, Perfection.
From the onset, McConnell effected distribution of his products through housewives and other women who could devote only a portion of their time to the work. The years brought steadily increasing success and, at the time of his death, his sales force had grown to over 30,000 agents and the Vol. of sales was measured in the millions.
The California Perfume Company was incorporated in January 1916, and through subsequent changes in name it became Allied Products, Inc., and later Avon Allied Products, Inc., with the following subsidiaries: Avon Products, Inc., distributors of Avon cosmetics and toiletries, the trade name Avon having been adopted in 1929 because of the similarity of the landscape surrounding the laboratories in Suffern, NY to that of Avon, England; Perfection Household Products; Avon Products of Canada, Ltd., incorporated in 1924, being an outgrowth of the California Perfume Company of Canada, Ltd., which was started in 1906; Hinze Ambrosia, Inc., and Technical Laboratories, Inc.
McConnell was president, chairman of the board and principal owner of Avon Allied Products, Inc., and its affiliated companies until his death. He was also treasurer of G. W. Camrick & Co., manufacturers of pharmaceutical supplies in Newark, NJ, and a director of the Holly Hill Fruit Products, Inc., a large orange grove and canning enterprise of Davenport, FL. He was one of the founders of the Suffern National Bank of which he became vice president in 1901, president in 1922 and chairman of the board in 1927. He was again elected chairman of the board and president in 1933 and continued in one or the other office until his death.
For varying periods he was superintendent of schools in Suffern; president of the Suffern Board of Education, and treasurer of the Rockland County Republican committee. During the First World War he was chairman of the Rockland County selective service board. A Presbyterian in religion, he was instrumental in starting and played a major part in building the Suffern Presbyterian Church and for many years was superintendent of its Sunday school. He was a Mason and a member of the Union League Club of New York City, the Ormond Beach Club of Florida, the Arcola, NY Country Club and Houvenkoph Country Club of Suffern, NY. Fishing, golf and horseback riding were his recreations.
He was married in Chicago, March 31, 1885, to Lucy Emma, daughter of Ward Hays of Le Porte, IN and had three children: Edna Bertha, who married William Van Allen Clark; Doris Hall, who married Edward Hall Faile; and David Hall McConnell, Jr. His death occurred in Suffern, NY, January 20, 1937.
(ARTICLE CONTRIBUTED BY MR. BUD HASTIN FROM HIS AVON COLLECTOR'S ENCYCLOPEDIA, 17TH EDITION)
David and Lucy McConnell | D. H. McConnell, Sr. Obituary | D. H. McConnell, Sr. Photo Gallery