Rusty and Cindy Mills
Main Navigation | Collector's Corner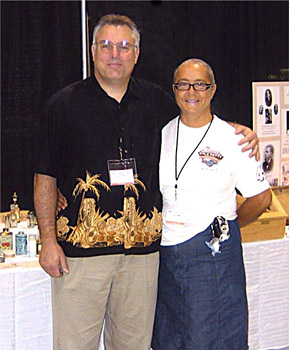 Rusty and Cindy Mills
Picture taken at the 2008 FOHBC Expo in York, PA after winning "Most Educational" for the extensive CPC display.
Hi! Welcome to my web site...
Please allow me to introduce myself. My name is Rusty Mills. I and my wonderful wife of 35 years, Cindy, live in south-central Pennsylvania: snuggled amongst the beautiful rolling hills off of the Blue Ridge mountains. We have two lovely children, a boy and a girl, who are now married with children of their own! We are now blessed with two grandchildren: a girl and a boy. This web site attests to our obvious affinity toward collecting California Perfume Company and early-Avon products and memorabilia and researching this company's vast history. However, the most important focus in our lives is Jesus. My wife and I actively minister the Gospel of the Lord Jesus Christ as a part of Apostolic Ministries Church in Hanover, Pennsylvania.
About CPC Collecting:
All through my life, I have always been a collector of different things. Since I was quite young, I have collected bottles, comic books, various antiques, Beanie Babies, and Avon/CPC. The Avon bug actually hit me back in the very early 1980s. Cindy and I were living in Arizona at the time and frequented some outdoor markets, sales, and such. I often saw one particular vendor with a load of mint boxed Avon figurals. The gleam and shimmer caught my eye one day and I purchased a few pieces. Then I went back and purchased a few more...and more...and more...you know how that story goes. By 1989, I had a very large room in the lower section of my home in Maryland filled with Avon. Early on I realized that the REAL collectables were the super-rare, hard-to-find California Perfume Company items.
There are two particular stories worthy of note I wish to share: First, my wife and I were in the Army and being transferred to South Korea in 1983. While stopping in Washington state to see my wife's brother, we visited a local antique shop. It was there that I found my first two pieces of California Perfume: two one half ounce bottles from the 1923-1930 Perfection Coloring Set. Talk about going bonkers—I thought I had just won a million dollars! The second story takes place in 1985. Some time during the early-summer of that year I received a call telling me that Bud Hastin was in the process of selling his paper collection: the collection that literally defined his Avon Collector's Encyclopedias. I jumped on it! To me, this was the chance of a life time. I called Bud on the phone and we made a deal (even to this day I believe that I got the better end of that deal. Thanks so much Bud!) The timing of the deal coincided with the National Association of Avon Collectors' yearly gathering (that year the convention was in Nashville, Tennessee.) Bud and I couldn't get together on mailing/shipping of the paperwork that I purchased, but he said that he was attending the national convention. With my youth (long since gone) and my zeal for collecting, I decided to drive down to Nashville from Maryland "real quick" and pick up my new stuff. That was some trip. Alone, I drove 14 hours straight to get to Nashville. Tired and somewhat beat, I went to the Grand Old Opry with the rest of the convention-ers the same evening that I arrived. By the time the show was over, I was totally drained...and I had no accommodations for the night! Kindly, George Gaspar offered me a place to rest that evening (Thanks so very much George! I'll never forget that.) The next day, I headed back to Maryland, again driving 14 hours straight to get home. What a trip! And that acquisition really re-focused my early-collecting onto CPC paperwork—hence my affinity for the history of the California Perfume Company.
Then, there was a long sabbatical from collecting: approximately eight years.
Sometime around 1999-2000, I began collecting once again. Now I primarily collect California Perfume Company items. In the picture immediately below, you can see a portion of the ever-growing Mills collection.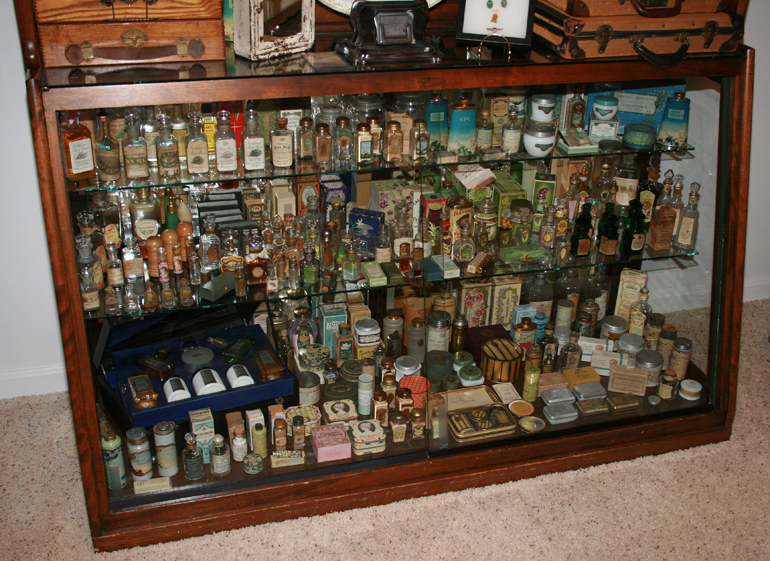 A portion of the Mills' California Perfume Company collection
In February and March, 2012, our collection and this web site received a HUGE boost. Dr. Mike Levitt of Minneapolis, MN began selling his expansive CPC and Avon collection (clearly the largest single collection in the world.) He kindly allowed Cindy and I to come to his home and photograph anything within his collection. While there we were also able to purchase some of the finest, rarest CPCs found to date. We took six days...driving two days out, two days there, and driving two days back—eleven hundred miles one way. Admittedly, the trip was so easy as both Cindy and I were so excited! It was a wonderful trip. The Levitts are phenomenal people! We ended up with hundreds of new photographs and many, many additional treasures for the Mills' CPC collection. Thank you Dr. Levitt. And to that, I must add to this story that we diverted our return route to stop by George Gaspar's home for a short visit. While there George, Cindy, and I took to photographing many of the beautiful CPCs and Goetting's that George acquired since my last trip in 2006. Thank you so much George for opening your home to Cindy and I once again!
The best part about collecting now, as compared to my collecting some years back, is that Cindy is "somewhat" interested in CPC collecting also. That is really a wonderful thing when you and your loved one can share something interesting and fun together! By far, the largest portion of our collection is actually CPC paper items—including Catalogs, CPC and Avon Outlooks, CPC Bulletins, Pamphlets, Brochures, Order Sheets, Order Pads, Correspondence, Advertisements, etc. All that "paper stuff" is what has made this web site possible.
About The Real Love of Our Lives:
Collecting CPC is fun and enjoyable, but that is not what brings true fulfillment to our lives. CPC certainly CANNOT bring inward peace, lasting joy, and real hope to anyone...but there is One who can do all those things and so, so much more.
Some time ago, when I was living in Maryland, I met a young Air Force officer on temporary duty from Oklahoma who came to Maryland for a short class—a class that I was also attending. Our frequent talks about faith and God transitioned into a spectacular, deep Bible study wherein the Air Force officer spent several hours during our lunch times at work revealing the marvelous truth of Jesus Name baptism and it's importance to the salvation experience. Not only did he open up the Christian scriptures to me, but his demeanor emanated love and a real concern for me. It was through that five-day bible study that I read and easily understood God's truth: the truth that I had never heard preached from any pulpit—but it had been right there, right in front of me all along, right in the pages of the New and Old Testaments. After the class, the Air Force officer went back home to Oklahoma.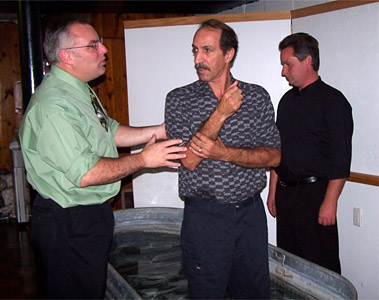 Rusty prepares to baptize a gentleman in the
precious Name of Jesus Christ.
After eight months of struggling to rectify God's teaching on baptism in the Bible with the message taught in my local main-line denominational assembly (which was NOT the same), I finally yielded to God and agreed that I would indeed be baptized as the Bible taught: full water immersion in the name of Jesus Christ. Within a week of my decision to yield to God's truth, that same Air Force officer returned to Maryland and, miraculously, he had prepared another very short Bible study that answered the one nagging question that remained on my mind: What was so important about the Name of Jesus? [The miraculous thing is that this second Bible study was prepared before he left Oklahoma; we had not been in contact, so he didn't know my nagging question; and his arrival came within one week of my yielding to God.] Though there is so much more to the answer given to me, let me simply whet your appetite with the following verses:
Acts 4:12 (King James Version)
Neither is there salvation in any other: for there is none other name under heaven given among men, whereby we must be saved.
Acts 2:38 (King James Version)
Then Peter said unto them, Repent, and be baptized every one of you in the name of Jesus Christ for the remission of sins, and ye shall receive the gift of the Holy Ghost.
Wow, and what a phenomenal turning point in my life as I repented and was buried with Christ in baptism (Romans 6:4) and I received His precious Holy Spirit, speaking in tongues as the Spirit of God gave the utterance (Acts 2:4)—just like in the Book of Acts!
Now I do have joy unspeakable! Now I do have hope eternal, even in the midst of trouble and stress. Now, I know a belonging to a greater family and purpose. And now I have, life...everlasting life in Christ Jesus!
Please, if you would like to know more about this Jesus; if you want to know more about the salvation experience; if you want to know more about God's Holy Word, contact me and I would be honored to help. Our lives really are just a vapor: here today, gone tomorrow. Jesus came that we might have life. He has the answers to life's questions. He is THE Healer; THE Deliverer, THE Friend and Confidant. Please, give Jesus a chance!
Rusty