D. H. McConnell, Sr. Obituary
January 20, 1937
D. H. M'CONNELL, 78,
INDUSTRIALIST, DIES

Founder of the Allied Products,
Inc., Was Long Prominent in
Rockland County Affairs

Special to THE NEW YORK TIMES

SUFFERN, N. Y., Jan. 20.-D. H. McConnell, founder and president of Allied Products, Inc., of New York City and Suffern, manufacturers of perfumes and toilet articles, died at his home here this morning of a streptococcic infection. His age was 78.

He had been prominent for many years in Rockland County affairs. He was chairman of the board of directors and president of the Suffern National Bank and Trust Company, and was an organizer of the Suffern National Bank. He was treasurer of G. W. Carnrick & Co. of Newark, manufacturers of pharmaceutical supplies.

Surviving are his widow, the former Lucy Hays; a son, D. H. McConnell Jr. of Suffern; two daughters, Mrs. W. Van Alen Clark of Suffern and Mrs. E. Hall Faile of Westport Conn.; A brother George McConnell of San Francisco, and two sisters, Mrs. Robert McMillan of Fulton, N. Y., and Mrs. Margaret Groat of Oswego.

From the 21 January, 1937 edition of the New York Times.
David H. McConnell Sr. is buried at the Airmont Cemetery in Suffern, New York.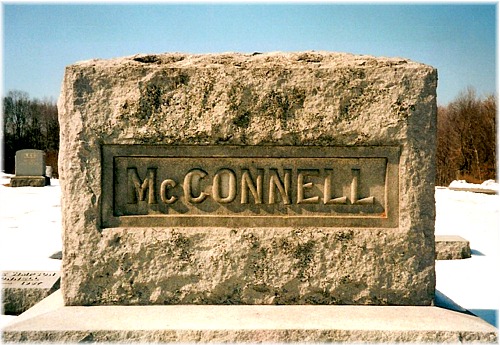 David Hall McConnell Sr. Gravestone
Graciously provided by Ms. Ginnette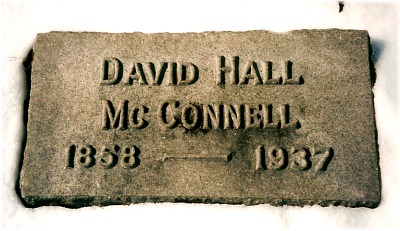 David Hall McConnell Sr. Grave Name Plate
Graciously provided by Ms. Ginnette
D. H. McConnell, Sr. | David and Lucy McConnell | D. H. McConnell, Sr. Photo Gallery