Frequently Asked Questions
Main Navigation | Collector's Corner
The following are paraphrased questions from those that I have received over the years. Please NOTE: additional answers to some collector questions have been re-worked into the What's Hot and What's Not section, the Collector's Tips section, and the Newest Finds section. If you don't find the information you need, please feel free to contact me at george (at) californiaperfumecompany.com.
The Color Plate Catalogs, What Are They Worth?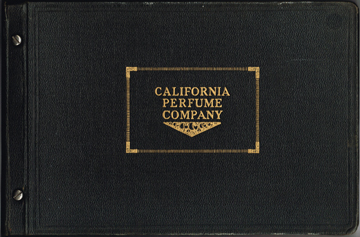 Late 1915-1919 Color Plate Catalog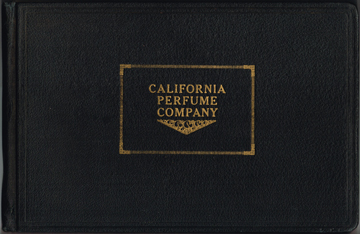 1920-1923 Color Plate Catalog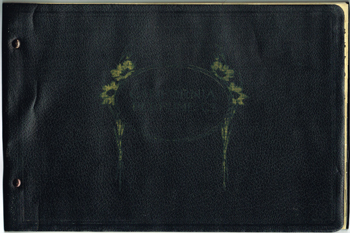 1924-1929 Color Plate Catalog
This is, without doubt, the most frequently asked question I receive!
The large black Color Plate catalogs were introduced to the California Perfume Company Depot Managers (CPC Representatives) in late-1915. These larger, full-colored lithograph catalogs displayed most of the company's primary goods—meaning that regular- and popular-sized items were illustrated, but items such as the five pound baking powder tin, the one-gallon flavoring extract bottles, and the quart-sized perfumes were rarely, if ever, pictured. From a business perspective, the move to the larger Color Plates from the smaller-sized, primarily black and white catalogs met with huge success and helped to generate excellent sales over the years. The Color Plate catalogs (seen to the right) were employed from late-1915 through 1929.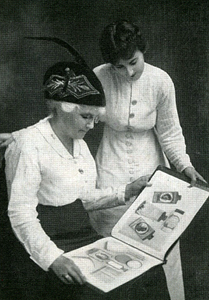 A Depot Manager (CPC Representative) looks through the new Color Plate catalog with her customer.
~ From 1916 CPC Outlook
As can be seen in the pictures to the right, there were three different variations of the catalogs over the fourteen/fifteen years of their use. The first variation is hard-covered, with forty color-plate pages of drawn product illustrations, and bound with two "exposed" screws. The screw-binding was quite innovative because it facilitated the easy removal of old/outdated pages and the quick addition of new/updated material—all accomplished without requiring the replacement of the entire catalog. The 1915 and 1916 editions of the Color Plates contained only pictures and prices of the CPC goods. The smaller CPC Book catalogs were to be taken along as a supplement—to provide the detailed descriptions of the products. In 1916, the war in Europe caused the price of the paper used to produce the smaller CPC Book catalogs to sky-rocket, and consequently be discontinued in their normal 64-page form. The 1917-1918 Color Plates then included un-numbered leaves "in-between" the forty color-plate pages. These "in-between" leaves/pages were for product descriptions and prices (previously found in the smaller catalogs.)
The Color Plate catalogs produced between 1920 and 1923 were also hardcover and contained 34 to 36 pages with the "in-between" leaves now numbered to correspond to the color-plate page they describe (e.g., both color-plate page and "in-between" leaf are numbered with the same number, 1 and 1, 2 and 2 up though 33 or 35) The last page of the Color Plate catalog is always a price list or a depiction of the Panama-Pacific Gold Medal Award Certificate from 1915. Other than products, the real difference is that the 1920-1923 catalogs are bound by staples, precluding the "easy" switch-out of pages.
For the 1924 to 1929 Color Plate catalogs, the California Perfume Company made a superior innovation by changing the hardcover exterior for soft cover vinyl. This innovative step greatly aided the representatives carrying these larger catalogs; a definite weight and space savings! Like the 1920-1923 Color Plates, these catalogs contained approximately 34 pages with corresponding "in-between" product description/pricing leaves. Rather than stapling, these catalogs were bound with two permanent rivets. Changes to these catalogs required the purchase of a new catalog. Click here for additional information about the Color Plate catalogs.
Now for the values!
Of course, condition is everything! According to the 18th Edition of Bud Hastin's Avon Collector's Encyclopedia should "range from $25.00 in very bad condition to $150.00 for [one in] mint, new condition" (see page 273 of Bud's Encyclopedia). I definitely agree with these prices. As a matter of fact, if we're talking about a 1915 to 1919 catalog in mint condition, I could even see spending $200.00. After obsessively watching e-Bay over the past eleven plus years, I have found that these Color Plate catalogs are actually quite common. And for that reason alone, I am amazed at the on-line rare book stores that have tried to hawk these Color Plates for extraordinary amounts! Currently (as of June 2013), three online rare book dealers are offering Color Plates: Bauman Rare Books is offering a Color Plate Catalog for $3200.00 and Burton Lysecki Books is offering a Color Plate catalog for $1150.00. Yes, I have seen individuals try selling their Color Plates on e-Bay for anywhere from $500.00 to over $1000.00 and I have NEVER seen one of these Color Plate catalogs sell at those prices. Admittedly, on two occasions in the past decade I have seen Color Plates that sold for $375.00 and $400.00. I believe those sales were flukes; they certainly do not represent the norm.
Lastly, I am a realist (and a capitalist) that believes everything ultimately finds its price. That is to say, the value of a particular item will find its real value when placed out in the marketplace (give or take a little time)—think of it as supply and demand. I also believe that the real, actual, bona-fide value of any item, regardless of what is quoted in some "Collector's Guide", is only as much as will be paid by someone who desires to acquire that item.
Questions? If you have any questions, please feel free to ask. E-mail me at george (at) californiaperfumecompany.com.
Can You Tell Me About the Avon Anniversary Keepsakes?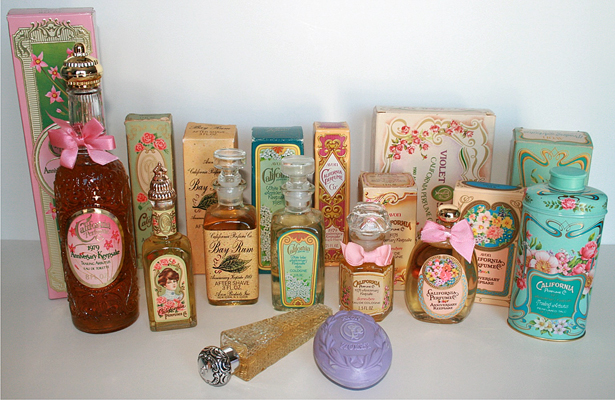 Avon Anniversary Keepsakes
~1975-1982

Small Treasures Fragrance Bottles
Representative Award
~1982


Reproduction of a CPC 1898-1902
Sweet Cologne Perfume Bottle
~1961
The Avon Anniversary Keepsakes (shown above) where introduced in 1975 and continued in production through 1982—during the heyday of Avon Collecting: the late-1960's through the mid-1980s. Avon's nostalgically designed bottles, tins, soaps, and boxes reflected back to the California Perfume Company of yesteryear with its ornate, award-winning products, labeling, and packaging. The thing to remember here is that these Anniversary Keepsake products/containers were mass produced and sold during the peak Avon Collecting years, therefore each of these items is extremely common and can be found for sale just about anywhere and everywhere—especially on e-Bay. Sadly, because of their plentiful nature, these Avon items do not generate allot of collector interest.
The Anniversary Keepsakes were not the first, nor were they the last, Avon products bearing similar design to their forerunner's products. As a matter of fact, Avon released the following reproduction/replica items:
1961-1968 Lavender Powder Sachet - looks like a clear lavender salts bottle

1975 - Representatives Christmas Gift

1982 - Small Treasures Fragrances Bottles (Shown Above)

1984 - California Perfume Company soap bars: Violet, Apple Blossom, and Lilac

1999 - California Perfume Company Cologne: Violet, White Lilac 30 ml bottle
Again, these preceding items were also mass produced in great quantity; they too garner little to no collector interest.
Lastly, there is a special group of CPC reproduction bottles that were manufactured by Avon for display in Branch Museums in 1961. After some unspecified time on display, all the reproductions were supposedly collected and placed in the Avon archive. It is apparent, however, that all of the reproductions did not make it into the archive. These items are VERY rare and command a very hefty price if and when they make it to the marketplace. The Sweet Cologne Reproduction bottle above is valued at approximately $100.00.
If you have any questions, please feel free to ask. E-mail me at george (at) californiaperfumecompany.com.
What Is The Current Market Value of "X"?
"What is the current market value of "X"? constitutes the bulk of the questions I receive. So, in the following paragraphs I am going to try and lay out some fundamental principles on the valuation of CPCs and Avons. Speaking in broad generalities...
Items produced by the California Perfume Company are much more highly sought than Avons...with the exception of Avon items produced in the 1940's—during World War II for example—through the 1950's, especially sets, soaps and most things that were consumable. And therein lies the crux of the issue: consumable. As was the case with ALL CPC and Avon items through the 1950's, they were considered consumables: the items were to be used up by the customer after which, hopefully, another sale would be generated. Admittedly, many items, particularly sets, were put up in ornate packaging which lent to their retention even after all the contents were exhausted. Nevertheless, these items were meant to be used, discarded, and repurchased.
Given that critical fact (consumable), the CPCs and earlier Avons are often "rare" because there are few, if any, surviving items/examples of the products; they were consumed and discarded. Consequently, when discovered and sold, these rare CPCs and Avons often command a fair to hefty price...based on condition!
About the Avons produced from the 1960's onwards...the term "collectible" takes on a much different connotation! Beginning in the 1960's with the Avon company's introduction of figurals, a large market stood up to buy: the Avon Collectors! Suffice it to say that the normal sales generated by Avon (with the non-collector) during the 1960's through 1990's coupled with the enthusiastic purchasing practices of many, many Avon collectors throughout the world, created a phenomenal business opportunity for Avon. And an extraordinary amount of "collectibles" were produced over those 30 plus years. These "collectibles" WERE NOT designed to be simply consumed and discarded. They were DESIGNED with collectors in mind. The items were meant to be retained. So, that's where we are today: with an incredibly large supply of Avon items—collectible figurals, soaps, etc.—and very little demand. Thus most (not all) Avon items manufactured after 1960 will bring a much lower price today, if they can be sold at all.
Sorry to be the bearer of bad news...but just think of the many, many older folks who, in the 1960's through 1990's actually banked their entire retirement on Avon collectibles betting that they could resell their massive collections for a much greater price years down the road. Please don't bank you retirement on ANY collectibles! You never know where the market will be tomorrow.
Lastly, if you are seeking the Current Market Values of your CPCs and Avons, please consult the most current edition of the Bud Hastin's Avon Encyclopedia: available at most larger book stores, through on-line book sellers, or through the publisher's web site: Collector Books.
Questions? If you have any questions, please feel free to ask. E-mail me at george (at) californiaperfumecompany.com.
Are You Interested in Purchasing My Avon/Avon Collection?
Please let me say that I do appreciate all the offers to purchase so many Avon items, new and old. As noted on The Mills Family portion of this web site, I started out collecting Avon pieces in the very early 1980s and amassed a fairly large collection...and fortunately sold most of my common Avon items prior to the market drop in the 1990's. As a general rule of thumb, I now only collect CPCs. However, I will consider items, particularly sets and soaps, produced in the 1940's-1950's if they are in absolutely mint condition. Thank you all so very much for your many offers!
Questions? If you have any questions, please feel free to ask. E-mail me at george (at) californiaperfumecompany.com.
Watch this page in the future for more Frequently Asked Questions...