Collector's Tips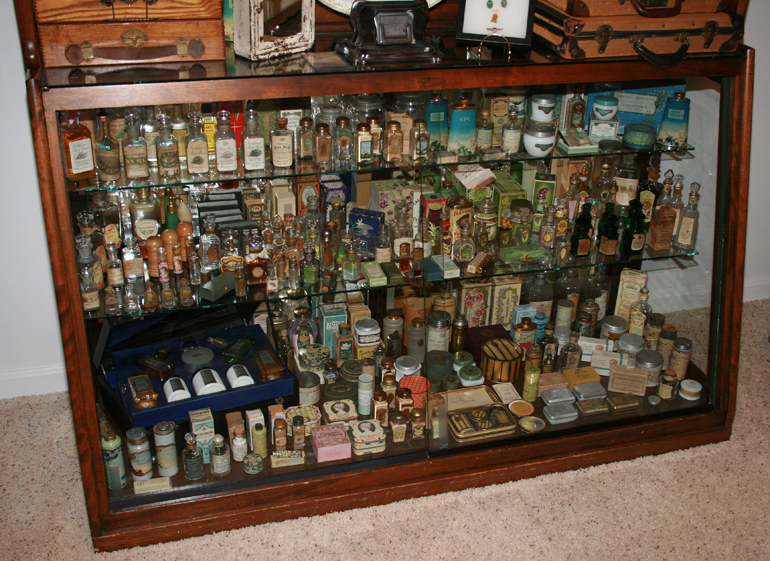 A portion of the Mills' CPC Collection
~2012
Following are a few, selected tips offered to help new, as well as the seasoned, California Perfume Company and early-Avon collectors. At least one century of collecting experience is gathered below from some of our most expert CPC Collectors: those of great caliber, such as Leonard Talys, George Gaspar, Richard Pardini, and Bud Hastin. And though these tips can not be considered the "end all-be all" of collecting guidance, I do hope that some of these helpful hints resonate with you and help you on your collecting adventure.
If you have a tip to offer, I would be very interested in hearing from you. Please send your tip to george (at) californiaperfumecompany.com.
1. The Good Stuff is Still Being Found Today!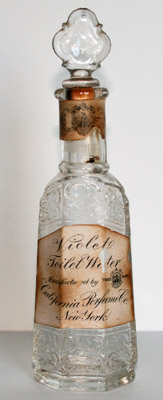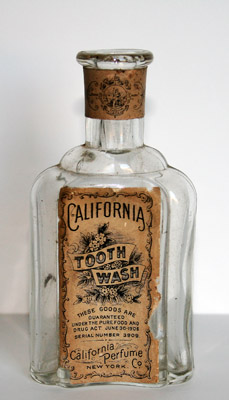 Two ounce Violet Toilet Water (L) and California Tooth Wash (R)
~1907 (L) and 1909 (R)
If there was one foundational truth to collecting California Perfume Company and early-Avon products and memorabilia that I want every person to know, it's that, "Yes! There's really, really good stuff STILL out there and STILL being found TODAY!"
I am often amazed at the CPC items brought to the auction block through e-Bay. Some of the CPC items have never been depicted in the pages of old CPC catalogs, representatives' Outlooks and Bulletins, company flyers, or in the Avon Collectors' Encyclopedias. Likewise, questions are sometimes brought to me through this web site accompanied by pictures of truly amazing and rare treasures that individuals have stumbled across while cleaning out old attics, remodeling old homes and buildings, going through the estates of deceased relatives...and the list goes on and on and on.
The two items pictured above are outstanding examples of my point. The 1907 Violet Toilet Water (above left) has never been documented anywhere! It is totally new to the California Perfume Company collecting scene—an absolute rarity, especially since the container is a two ounce version of the bottle normally attributed to the CPC's 1/4 ounce trial-size French perfumes. This represents the only time this humble collector has ever seen this bottle style in a two ounce version. Likewise, the 1909 Tooth Wash bottle is a great oddity owing to it's front and neck labels being intact. Though tooth wash bottles are commonly brought to market, this is the only extant example with its labels. The truly sad part about this particular specimen is that the original metal sprinkle top is now missing. Two CPC treasures, very- to extremely-rare, found just recently!
So, if you are thinking that "ALL the good stuff has already been found," think again! There is still a ton of great items out there just waiting to be found!
Happy hunting!
2. Condition Directly Affects Value!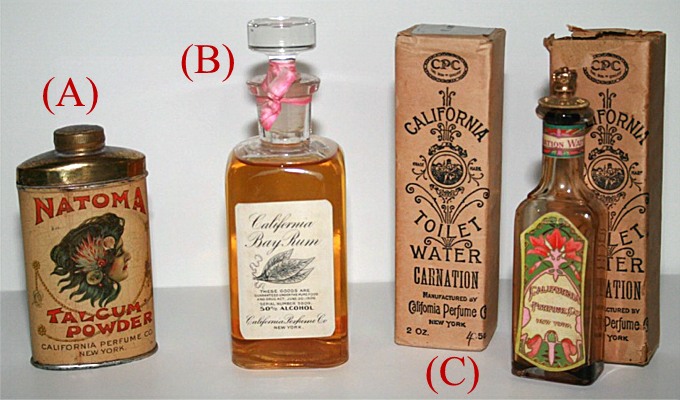 A Comparison of Condition
A: 1912 Natoma Rose Talcum B. 1914 California Bay Rum (8 Ounce) C. 1916 Carnation Toilet Water (2 Ounce)
It virtually goes without saying that the condition of a collectible will directly determine/affect its valuation. Or, in other words, the better the condition of the collectible, the higher the price that that particular collectible can potentially bring in the marketplace. Above are three basic examples of condition: (A) a 1912 Natoma Rose Talcum Powder; (B) a 1914 8 Ounce Bay Rum; and (C) two 1916 2 Ounce Carnation Toilet Waters.
There are two primary Avon Collector's Encyclopedias that cover the gamut of California Perfume Company and Avon products sold in the United States: the Bud Hastin Avon Collector's Encyclopedia (now in its 18th edition) and the Western World Avon 8 Collector's Encyclopedia (the last edition produced in the mid-1980s). Both of these collector guides use "mint" as their base line for Current Market Value (CMV) and describe CMVs as "MB" for Mint Boxed and "BO" or "TO" for Bottle Only or Tin Only—remembering, the criteria is that the collectible is in mint condition, just WITHOUT the box or packaging.
Looking to our three examples:
(A) 1912 Natoma Talcum Powder
From Bud Hastin's Avon Collector's Encyclopedia: MB: $360 and TO: $300
This is a very rare treasure that no longer has its original box. Its condition is far from mint. The brass-colored top is tarnished and marred. The paint on the tin's body is worn in places, contains stains, and presents an overall cracking appearance. The tin's base contains very mild surface rust. Therefore, this tin should not bring the full $300.00—mint "Tin Only" price. Now for the other side of the coin: based on a collectible's rarity and the collector's desire to purchase, regardless of item condition, an individual may pay well above the CMV suggested in the Avon Collector's Encyclopedias (i.e., I paid $500.00 for this tin…and I feel that it's worth every penny to me!)
(B) 1914 8 Ounce Bay Rum
From Bud Hastin's Avon Collector's Encyclopedia: MB: $175 and BO: $140
This bottle is exquisite! This eight ounce Bay Rum is truly MINT. It has never been opened and its original ribbon still holds the glass stopper in place. The bottle has all of its original contents (please note: it is NOT required that MINT items contain their contents). Also, the label is pristine. One flaw however: no box. This is a perfect example of a collectible that would bring the full BO—"Bottle Only"—value of $140.00.
(C) 1916 2 Ounce Carnation Toilet Waters
From Bud Hastin's Avon Collector's Encyclopedia: MB: $140 and BO: $115
Above are two examples of the same product. The interesting point above is that one of two has NEVER been taken out of its original packaging—talk about "Mint Boxed"! It is VERY rare to find a still-sealed CPC product! This would definitely bring the full "Mint Boxed" value, and probably more. The other example is a NEAR-mint bottle with its box, and the box is tattered and torn. If you did not notice, the very upper portion of the front label on the bottle has creases, having come loose from the bottle by being removed from and replaced into it's packaging. This is a bottle WITH it's box, but truth-be-told, it should not bring the full $140.00 "Mint Boxed" value…I would estimate at least a 5% to 10% decrease.

3. Know What You Want to Collect!
This tip is probably of greatest value to the collector! In other words, "You Rule the Collection, Don't Let the Collection Rule You." Choose the area of CPC/Avon collecting that is of particular interest to you (i.e.; Trailing Arbutus or Natoma Rose products, Paper items, Perfume bottles, Perfection items, etc.) and stick to it! That's not to suggest you can't or shouldn't buy other interesting pieces, however, you should define for yourself what you want to collect. Most people do not have an infinite money source to tap into in order to pay for their CPC purchases.

4. Buy the Empty Boxes!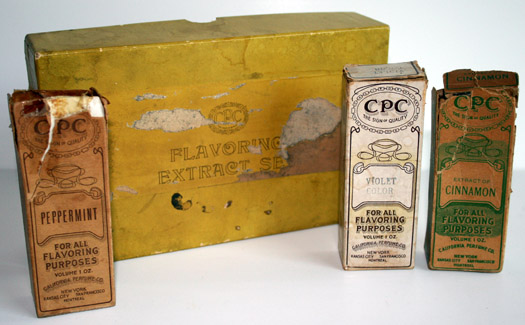 An Empty California Perfume Company Flavoring Extract Set
~Probably 1917
When the opportunity arises to buy an empty box—particularly one in excellent condition—TAKE IT! Above is a very rare find; owned by Mr. Richard Pardini of California. The three flavoring extract boxes (Peppermint, Violet Coloring, and Cinnamon) are empty. They represent examples of the type of boxes that would have been contained within the larger yellow CPC Flavoring Extract Set (well...except for the fact that Violet Coloring would not have been included an extract set, but that same box type would have...clear as mud?)
Without doubt, the first thing to be tossed out into the trash is the packaging. Really, who wants that bulk material taking up space in their home or garage or shed? The products sold by the California Perfume Company were consumables: they were meant to be used and thrown away. By extension, if the products were to be consumed and thrown away after use, you would certainly expect the packaging be tossed out also! So, many CPC items brought to market—on e-Bay, at estate sales, etc.—we see only the bottle or the tin...normally you will NOT see the box. The fact is, the box (again, depending on condition as stated above) can add anywhere from a 25% to 100% increase to the value of a collectible. The bottles are out there...the boxes are extremely rare! When you can find an empty box, grab it! You'll probably find the matching bottle for your empty box shortly thereafter. See a further discussion on the importance of buying the box!
5. Don't Be Afraid of Incomplete Sets!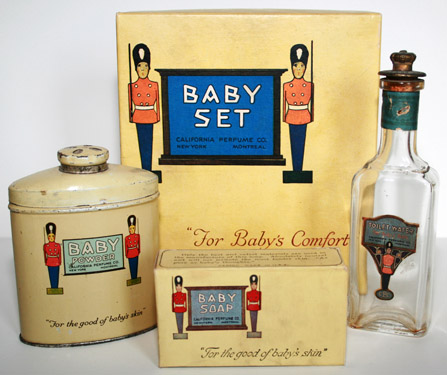 The CPC Baby Set
~1923-1925
In one respect, I don't think too many CPC and early-Avon collectors really have the issue of NOT purchasing incomplete sets or single items that were primarily, or only, sold as part of a set. That said, I still feel it is worth addressing in a couple of paragraphs!
I am always amazed at the California Perfume Company and early-Avon products that are still being found today (read Tip Number One above). Sometimes though, the CPC and Avon sets that find their way to sale are incomplete: missing a bottle, or a tin, or most of its individual components. The opposite may be true wherein a single item (bottle, tin, soap, etc.) that is known to be primarily or only sold within a set may be brought to sale. Buy It! I cannot express this more strongly! Buy It!
The above pictured 1923 CPC Baby Set represents just one of many examples that I could offer. I purchased the Baby Toilet Water bottle from Mr. Lenny Talys back in the mid-1980s. Though I never thought that I would be the proud owner of a 1923 Baby Set, one came up for auction on e-Bay twenty years after my purchase of Lenny's Baby Toilet Water bottle! That set brought to auction contained a beautiful outer box, a nice talcum tin, and an empty soap box...BUT NO Baby Toilet Water! Needless to say, I jumped on that treasure. Hence, I completed an incomplete set! I was absolutely thrilled with that purchase which gave me the opportunity to bring together my lonely Baby Toilet Water bottle with its rightful companions.
6. Estimating the Age of Your CPC Piece
Considering everything associated with CPC collecting, I would have to say that this one aspect—calculating the age of a particular item—is probably the most difficult. The problem rests squarely in the fact that there are few illustrations for the majority of early CPC products. Many of those illustrations are actually inaccurate. The first California Perfume Company catalog was published in 1896, ten years after the company's claimed inception (and at least four years after the California Perfume Company name was first used), and that catalog was issued with no illustrations; it was text-only. The second catalog, issued in 1897, contained a few hand-drawn illustrations. Only after the turn of the 20th century did the illustrations in the CPC catalogs provide reasonably accurate product depictions. Then, the CPC catalogs' illustrations may not have changed for years at a time, while some minor and some major changes actually did occur in the containers' styles, the containers' labels, or products' packaging—hence the "dating dilemma." A great deal of work related to product dating was accomplished while producing the Avon Encyclopedias and I am continually endeavoring to expand upon that great work. New, previously unseen and undocumented CPCs are still being found today. So, please be careful when dating your CPC item(s).
7. Generic Bottles - It's All in the Label!
One of the foundational goals of Mr. David H. McConnell, Sr. and the California Perfume Company was to provide the highest quality commercial goods and consumables at very reasonable prices. One clear way that that goal was accomplished was cutting out the middle-man and employing a force of direct sellers: the Depot Managers. An additional way that McConnell held operating costs down was to use common, generic, mass-produced containers available to any and all manufacturers. Actually this came as a bit of a surprise—I prided myself on my ability to spot a CPC bottle from a mile away (ok, that's a bit of an exaggeration, but you know what I mean.) Few, if any, of the product containers used by the CPC were unique to that company. See the 1915 L'Odeur de Violet sample bottle below—quite a find for many CPC collectors. Next to it is a bottle of the EXACT same design and size put up with Jockey Club perfume by Calisher Perfumer of New York.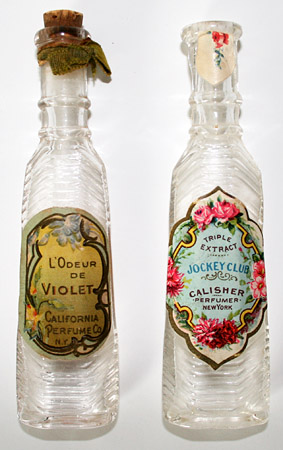 ~1915
Generic Bottles:
California Perfume Company's L'Odeur de Violet (L)
and
Calisher Perfumer's Jockey Club (R)
The important take away from this collector's tip is that without a CPC label on the bottle (or some other defining characteristic like the metal tops with CPC embossing), don't simply assume that that item is actually CPC. I paid nearly $70.00 for the L'Odeur de Violet. I paid just $5.00 for the Jockey Club by Calisher. The very same bottle, but the fact is: IT'S ALL IN THE LABEL.
8. Expect the Unexpected!
This aspect of California Perfume Company and early-Avon collecting is particularly interesting to me! After many, many years of personal CPC-collecting experience, I have come across some fascinating product variants that are not pictured in any Collector's Encyclopedia, company catalog, brochure, or advertisement. That, in and of itself, makes the hunt for CPC collectibles even more adventurous. Below I have included two examples of these "unexpected" treasures along with very brief possible explanations for their existence:

Violet Food Coloring
(Two Ounce Bottle)
~1906-1908
Note: This Violet Coloring from 1906 to 1908 was put up in the appropriate two ounce CPC container, however, the label is one used exclusively for flavoring extracts: it depicts "CONCENTRATED EXTRACT...FOR ALL FLAVORING PURPOSES." Apparently, the company ran out of the correct Vegetable Coloring labels and simply printed, "VIOLET COLORING" on this label for a quick fix.


Trailing Arbutus Cold Cream
(Small Jar)
~1926
Note: This product jar was produced and sold from approximately 1926-1929. This label was one originally seen on the earlier round Trailing Arbutus jars of late-1924-1926 (see comparison immediately below.) The jar pictured above probably represents a very rare transitional piece: starting the new style Trailing Arbutus packaging while depleting old stocks of labels.


Comparison with Earlier and Later Trailing Arbutus Cold Cream Jars
9. Collect Information About the Hobby
This particular Collector's Tip may speak more to me than to anyone else given my "obsession" with ALL things related to D. H. McConnell, Sr. and the California Perfume Company!
One of the most fascinating aspects associated with collecting California Perfume Company and early-Avon material and memorabilia is the research into company's history and into the many entrepreneurial adventures of Mr. David H. McConnell, founder and president of the California Perfume Company. As it turns out, McConnell's concerns include a host of businesses including Goetting & Co., New York; Mutual Manufacturing Co., New York; Mecca Oil; South American Silver Company; the D. H. McConnell Co.; Allied Products, Inc., and others. (See others for which D. H. McConnell, Sr. was a owners or officer.) The California Perfume Company is rich in history affecting the lives of millions of Depot Managers, Travellers, customers, and more. A well informed collector can locate a wealth of CPC and Avon-related information at the Hagley Museum and Library (location of the Avon Archives), in the CPC and Avon Bulletins and Outlooks (monthly CPC representative periodicals), through on-line Newspaper archives, and in business libraries.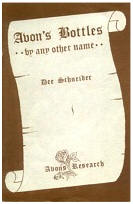 Front Cover of Dee Schneider's
"Avon Bottles...By Any Other Name"
One outstanding resource that details some of the California Perfume Company's "additional" corporate dealings is Dee Schneider's "Avon Bottles...By Any Other Name." In this book, you learn of Goetting & Company, Hinze Ambrosia, and Allied Products. Interesting facts contained in a variety of older publications—including the Avon Times magazine and Bud Hastin's Avon Collector's Encyclopedia—provide tools so that any collector can assemble interesting, diverse, and valuable collections!
Lastly, to really bring this point home, during one of my adventures to Hagley Museum and Library (home of Avon Archives) for research, I literally stumbled upon a tattered 1901 Depot Managers' Instruction Booklet (severally worn with no covers.) One of the only illustrations in the entire booklet was this 1901 Flavoring Extract Sample Case, seen immediately below. Never before documented, this phenomenal find would have remained buried from public view had it not been for research—obsessive research—but research all the same!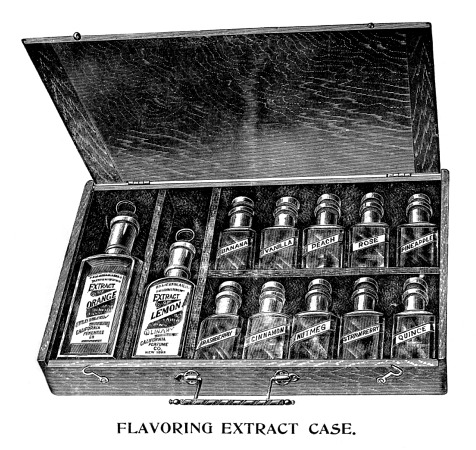 Depot Managers' Flavoring Extract Sample Case
~1901
Questions? - If you have any questions, please feel free to ask. E-mail me at george (at) californiaperfumecompany.com.