Mutual Manufacturing Co., NY


Mutual Manufacturing Company Advertisement in the
28 November 1897 edition of The Nebraska State Journal
An interesting piece of information was discovered and placed on the Henderson Family website (www.hendersonfamilytree.com). The entry details a 30 July 1897 New York Times article that announced a new company: the "Mutual Manufacturing Company of New York City, to manufacture jewelry, silverware, and household articles; capital stock, $3,000. Directors - Alexander D. Henderson and Elijah H. May, Brooklyn; David H. McConnell, Suffern."
This discovery led to further research which found a literal treasure trove of advertisements for the Mutual Mfg. Co. in a variety of late-1800's to early-1900's US newspapers (four examples are shown immediately below).


From the Galveston Daily News - 5 December 1897
| | |
| --- | --- |
| From the Dallas Morning News - 26 November 1899 | From the Dallas Morning News - 13 May 1900 |


From the Idaho Daily Statesman - 9 January 1898
However, the "treasure trove" vanished almost immediately outside of the newspaper advertisements. No documentation—catalogs, correspondence, price lists, representatives' materials, or any other paperwork—from the Mutual Manufacturing Company headquartered at 126 Chambers Street, New York, has been found to date. At some undetermined point, McConnell and Henderson apparently divested themselves of the company...probably between 1910 and 1920. One single piece of paper with the Mutual Manufacturing Co. letterhead, hand-written on both sides, is contained in the Avon Archives at the Hagley Museum and Library. The address on the letterhead dated July 15th, 1914 was 66 & 68 Reade Street, New York. (The 66 Reade Street address is literally one street over from 126 Chamber Street and about two to three blocks away "as the crow flies.") The letter is signed by Mr. F. R. McKinlay, General Manager.


Mutual Manufacturing Company, New York Letterhead
~15 July 1914
Note: the Company Address of 66 & 68 Reade Street
Only one Mutual Manufacturing Co. catalog has thus far surfaced (seen to the immediate right). The 5 1/2 inch by 4 1/3 inch paper catalog contains 16 pages of text only product descriptions. A close inspection of the products and the descriptive verbiage used in the catalog will definitely show a strong resemblance to that of early CPC catalogs...including the prices. (Click here to see a PDF version of the MMC catalog pictured to the right.) No date reference is found in the catalog and the prices correlate to the earliest California Perfume Company pricing as well. Thus it is difficult trying to use price comparisons to help with dating since McConnell successfully held his prices very steady for the first 20+ years of the CPC. It wasn't until the late-1910's that prices increased owing directly to effects on global markets during World War One. There is, therefore, no real benchmark to help establish a date for this catalog.
As one might expect, the wares offered by the Mutual Manufacturing Company (or MMC) mirrored those of the California Perfume Company. Several MMC items are depicted below: a 1906-1912 Manicure Set; White Rose Perfume set up in Gem (approximately 1/4 oz.) bottle; (probable) 1910 Heliotrope Sachet bottle; a late-1910's to early-1920's Shaving Stick, and a late-1910's to early-1920's Furniture Polish. Mimicking the labels on the California Perfume Company counterparts, these MMC labels also only announced "New York" as the headquarters address.
Not to add confusion, but it is worthy to note the following:
Again, the two companies were originally headquartered out of the same location: 126 Chambers Street, New York. This co-location may have lasted at least through 3 May 1909 when the California Perfume Company head office moved to 31 Park Place, New York. Speculation: McConnell and Henderson may NOT have moved the MMC headquarters to 31 Park Place in 1909, but instead relocated that operation to Reade Street. The following advertisement ran in 16 August, 1909 edition of The Constitution from Atlanta, Georgia (note the address of the company):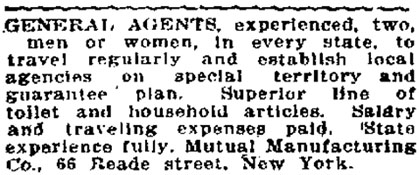 From Atlanta, Georgia's The Constitution - 16 August 1909
The only other piece of hard evidence linking David H. McConnell to this concern was found in the following entry from the Directory of Directors in the city of New York, 1915-1916:
McCONNELL, DAVID H., of the firms of Goetting & Co. and D. H. McConnell & Co., 31 Park Place.
Art Color Plate Engraving Co., Dir.
Bon-Air Heights Co., Dir.
California Perfume Co., Pres., and Dir.
G. W. Carnrick Co., Treas. and Dir.
Mecca Oil Co., Pres. and Dir.
Mecca Oil Co. No. 2, Pres. and Dir.
Merchants Land & Development Co., V. Pres. and Dir.
Mutual Manufacturing Co., Pres. and Dir.
N. Y. Canada Farms, V. Pres. and Dir.
Ramapo Land & Development Co., Pres., Treas. and Dir.
Only a few items have thus far been discovered: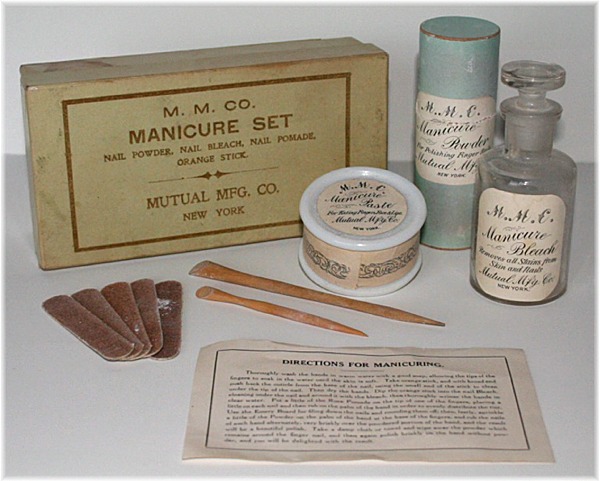 Mutual Manufacturing Co. Manicure Set
~Probably 1906-1912
Set includes one bottle of Manicure Bleach, one paper/cardboard container of Manicure Powder,
one jar of Manicure Paste, two orange Sticks (one large and one small),
five Emory Boards, and directions.
Note: The set virtually mirrors the 1906-1912 California Perfume Company Manicure Set.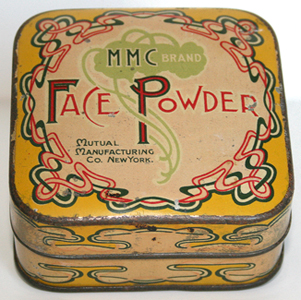 Mutual Manufacturing Co.
Face Powder
Probably ~1905
Note: The font and label styling are extraordinarily similar to
the 1908-1910 CPC Sweet Sixteen Face Powder boxes.
This box, however, is made of tin where as the Sweet
Sixteen boxes were always made of cardboard.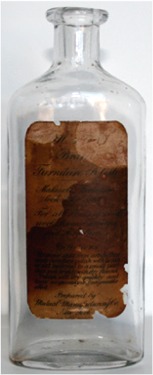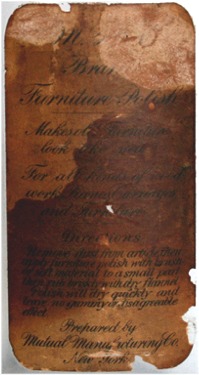 Mutual Manufacturing Co.
Furniture Polish
~Possibly Late-1910's to early-1920's
(Eight Ounce bottle shown)
And there concludes all that is currently "known" about the company. I would surmise though that somewhere out there resides a wealth of information about the Mutual Manufacturing Company of New York City...we just have to find it!
One interesting point to contemplate: in 1897, McConnell had already acquired Goetting & Co., New York (in 1896) and continued its nation-wide operation through approximately 1918. McConnell was proving successful with his California Perfume Company as he continually added Depot Managers (representatives) throughout the country year-by-year. His brilliant entrepreneurial ventures capitalized on both the Five & Dime/Department retail outlets AND the door-to-door/in-home markets. McConnell maximized his potential customer base by smartly catering to both audiences.
But then you have the Mutual Manufacturing Company!
I admit that according to scant information, the company sold, "jewelry, silverware, and household articles," as well as "flavoring extracts and toilet articles." This would almost seem like competing/conflicting rather than complementary. The lack of paperwork, representative's information, brochures, company documents, etc., make this mostly a matter of guesswork.
If you have any information concerning the Mutual Manufacturing Company of New York City, please contact me at george (at) californiaperfumecompany.com.