Goetting & Co., New York
CP Company || Goetting Pages: History | Products | Advertisements | Sample & Trade Cards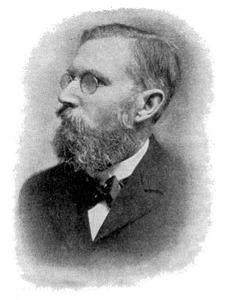 Adolph H. Goetting
Chemist-in-Chief at
Suffern Laboratory
California Perfume Company

The California Perfume Company not only purchases the very finest of raw materials direct from that part of the world where the best is produced, but is also equipped at the laboratory at Suffern, New York, with the most modern machinery, and has the benefit of the services of that international perfume artist, Mr. Adolph Goetting.

(EXCERPT FROM THE STORY OF PERFUMERY AND THE CPC, BY WILLIAM SCHEELE, C. 1916)
Therefore, in 1896, I secured the services of the best perfumer I could find, a gentleman who had been in the perfume business himself for 25 years and had the reputation in New York and vicinity for making the finest perfumes on the American market. In order to secure his services I was obliged to buy out his business and close up his laboratory, and he now has full charge of the manufacturing of every ounce of goods we put out.

(EXCERPT FROM A HISTORY OF THE CALIFORNIA PERFUME COMPANY, BY D. H. MCCONNELL, C. 1903)
Adolph H. Goetting and his perfume company, A. Goetting & Co., New York, are a bit of an anomaly for today's collectors. Considered by many to be one of the top perfumers of the late-nineteenth and early-twentieth centuries, there is little existing documentation regarding this perfumer's entrepreneurial endeavors, his personal history, or the fullness of his contribution to the California Perfume Company. This shortage of information can basically be attributed to two points:
1) Goetting & Company products and memorabilia (i.e., displays placards, calendars, trade cards, etc.) were primarily available through retail outlets, not through direct door-to-door sales as were CPC products. This one point cannot be overstated! For with door-to-door sales there was of necessity product catalogs, brochures, and representative's information in the form of flyers, letters, and monthly periodicals. The California Perfume Company produced a wealth of information over its 53 year existence. In contrast, Goetting & Company needed only the information necessary to secure commitments from the various retail stores serviced by Goetting's canvassers.
2) Adolph H. Goetting operated his successful business from 1871 until 1896 when the business was purchased lock, stock, and barrel by Mr. David H. McConnell. Whatever paperwork that was transferred during the purchase has not surfaced in the public domain and virtually nothing was found in the Avon Archives now resident in the Hagley Museum and Library. Additionally, only one piece of paperwork has surfaced from the 1896 through (at least) 1918 run of Goetting & Co., New York under McConnell's supervision (see the product invoice immediately below.)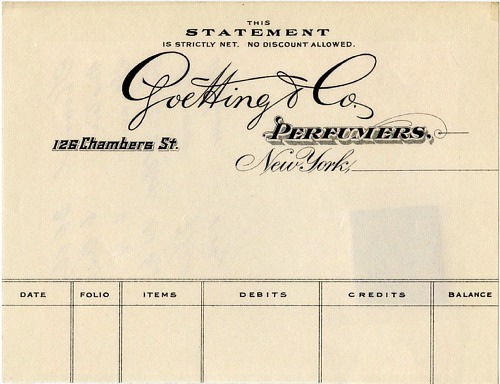 Goetting & Co. Product Invoice with the 126 Chamber St. Address
~1896-1918
Note: This is used with permission from the Hagley Museum and Library.
Therefore, the scant information on Goetting & Company has thus far been primarily limited to early historical accounts of the California Perfume Company, old (approximately 1905-1918) newspaper advertisements, and two sizable articles: first—a detailed explanation of Adolph Goetting and his effect on the California Perfume Company by Dee Schneider in her book Avon Bottles...By Any Other Name (currently out of print); and second—an excellent and fresh overview of Adolph Goetting, his company, and his many products by Ms. Helen Farnsworth in Vol. 21, Number 1 of the Perfume Bottle Quarterly (Fall 2008).
List of Goetting & Co. Fragrances

126 Cologne
Alpine Lilac
Bon-Ton
Bouquet Marie
Bouquet Royal
Carnation Pink
Central Park Bouquet
Cleofan
Crab Apple Blossom
Eastlake Bouquet (Sic)
Farina Cologne
Florida Water

French Lilies
French Rose
French Violet
German Cologne
Golf Club
Great Expectation Bouquet (Sic)
Japan
Jockey Club
New Mown Hay
Peau d'Espangne
Persian Carnation
Persian Heliotrope
Persian Honeysuckle

Persian Jockey Club
Persian Lily of the Valley
Persian Violet
Persian White Rose
Roses of Eden
Venetian Carnation
Venetian Heliotrope
Venetian Rose
Venetian Violet
Victoria
Violet
Violets of Eden

Note: This comprehensive list was compiled by Ms. Helen Farnsworth and printed in
Vol. 21, Number 1 of the Perfume Bottle Quarterly (Fall 2008).

Goetting & Co., New York Store Display Placard
~Unknown Date - Post-1896
Dimensions: 19 1/4" x 12"

Goetting's Perfume Display
~1905
Date determined by correlated 1905 Goetting advertisement
From a business perspective, David McConnell's acquisition of the Goetting & Co. was brilliant! This allowed him to pursue two separate, yet integrally connected capital ventures: door-to-door perfumes, toiletries, and household items sales with the California Perfume Company AND in-store perfumes and toiletries sales with Goetting. Because the two company's perfume lines were somewhat similar and McConnell possessed all of the necessary processing equipment (plus any that may have been transferred during the acquisition), the purchase of Goetting literally afforded McConnell an ALREADY established field of opportunity (in-store sales) for his future direction, expansion, and growth—McConnell was given the "Keys to the Kingdom" if you will. Ultimately, if either venture failed, he could/would have continued in the other...and so it was...as the final bit of Goetting & Co. information was noted in a 1918 advertisement selling Goetting's Face Powder apparently as a clearance item.
Following are pictures of Adolph H. Goetting: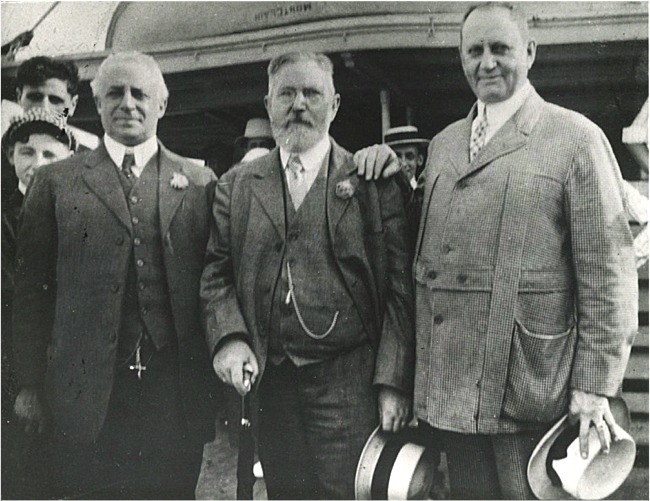 Picture of Alexander Henderson (L), Adolph Goetting (C), and David H. McConnell, Sr.(R)
~1914
Note: This is used with permission from the Hagley Museum and Library.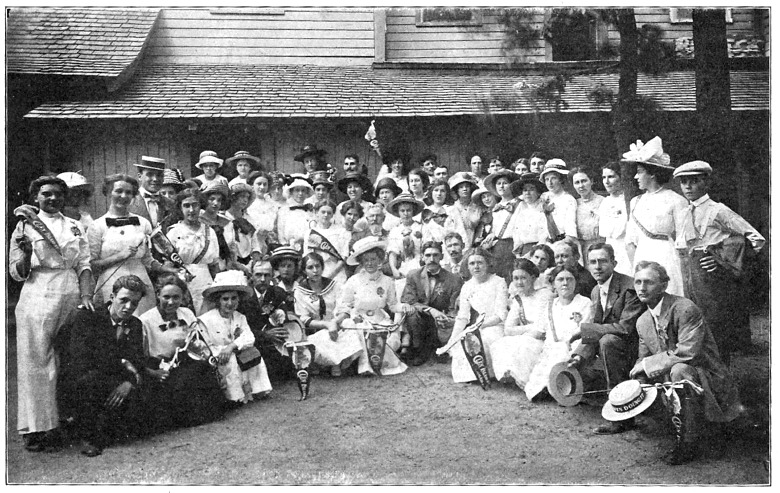 Annual Outing of the California Perfume Company's Employees to Glen Island
Picture above and Article below are from The American Perfumer, 1912
Note: Adolph Goetting is in the center of the picture, the man with the beard.

Employees of the California Perfume Co.'s laboratory at Suffern, N. Y., on Saturday, June 29, were treated by the company to a day's enjoyment in compensation for their faithful, conscientious work throughout the year. The entire force arrived at 8 a. m. at New York City by a special car over the Erie Railroad, whereupon an inspection of the New York offices and shipping rooms was made.

At 10 o'clock they boarded a steamboat for Glen Island, a pleasure resort about two and a half hours' sail up Long Island Sound. After a hearty luncheon they proceeded to enjoy the various amusements, such as scenic railway, air ships, dancing, etc., returning by steamboat at 4:30, thence through New York to Fort Lee, where, after further refreshments, a special trolley was waiting to take them back to Suffern, where they arrived late in the evening.

The party was in charge of the superintendent, Mr. Goetting, and the assistant superintendent, Mr. Doscher, whose arrangements for the outing were excellent, everything being conducive to a perfect day. They even ordered sunshine, which the weather man delivered on schedule time. In the photograph printed above the gentleman in the center, wearing a beard, is Mr. E. C. Goetting, head of the manufacturing department.
If you have ANY information about Adolph Goetting or Goetting & Company of New York, please contact me at george (at) californiaperfumecompany.com.
CP Company || Goetting Pages: History | Products | Advertisements | Sample & Trade Cards