The Previous Newest Finds
Main Navigation | Newest Finds —- Page 1 | 2 | 3 | Next>
A Crate-full of 1915-1922 Almond Meal Soap!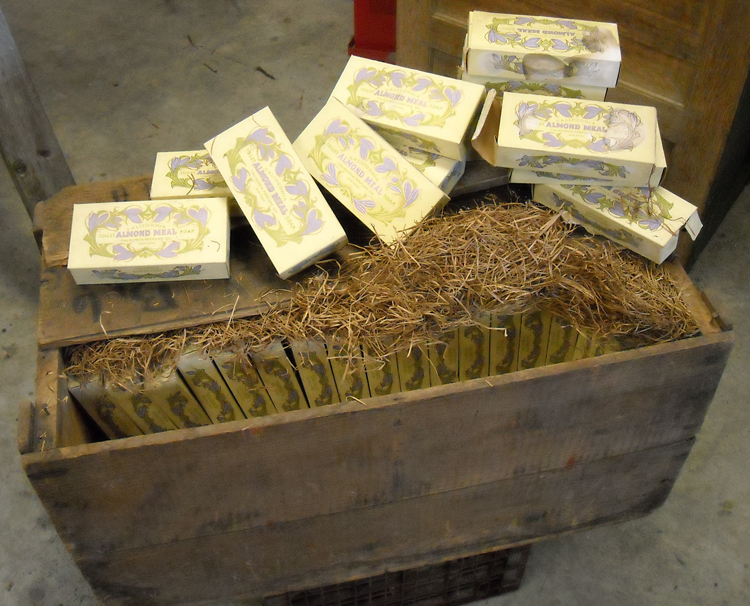 California Perfume Company Crate of Almond Meal Toilet Soaps
~1915-1922
NEVER in a million years did I ever expect to see a find like this! The background concerning this find is almost as amazing as the find itself!
In late May, 2012, I received an e-mail from a gentleman in which he wrote that, "[he had] recently went to a local auction and was interested in an old crate. To [his] surprise inside [the crate were boxes] of California Perfumes Co soaps." The gentleman described the boxes in the crate as, "purple and green, saying California Toilet Almond Meal Soap, California Perfume Co., New York." The e-mail was very short, but it's IMPACT was ENORMOUS! Years ago, George Gaspar shared a story with me about one of Lenny Talys' CPC adventures (recounted by George below) wherein Lenny ALMOST found a box (possibly a shipping box or crate) full of never-used CPC Liquid Shampoos. George's story represented the ONLY TIME that I had ever heard of a box full of never-used CPC products ever being found...until now.
I immediately wrote back to the gentleman asking for the story behind the crate and for some pictures. In his e-mail response, the gentleman sent six pictures and a phone number. During the ensuing half-hour call, I learned that this gentleman attended a local auction and was interested in an old crate that he subsequently discovered was filled with soap. A closer inspection after his purchase of the crate revealed that it was almost completely filled with 1915-1922 California Perfume Company Almond Meal soaps. His guess was that there were 50 to 100 boxes of soap contained within the crate. The address on the crate belonged to a house located very close to his own home in Zanesville, Ohio. That house was right along an active railroad tracks. A short distance down those same railroad tracks, approximately 100-200 yards away, was another house that served as the Zanesville railroad station long ago. My guess is that the CPC depot manager received her goods at that railroad depot just down the tracks from her home. Interestingly, there were only a few, maybe five or so, boxes missing from the full crate. For whatever reason, the depot manager purchased an entire crate of soap, removed the few boxes, and then the crate was placed in the basement of her home for almost 100 years!
Sadly, because of the crate's placement in a basement for almost a century, most of the soap boxes exhibited some degree of water damage. There were a few in relatively mint condition: like the day they were packed. The final count tallied 137 boxes of Almond Meal Toilet Soap in the crate along with the original straw packing material. Of those 137 boxes, 52 were unsalvageable and were discarded. Conversely, 85 boxes were in fair to near mint condition!
Wow, a crate with it's original soap contents that was shipped to a CPC depot manager in Zanesville, Ohio 100 years ago. What a historically valuable find!
Oh...not to forget! Here is George Gaspar's "Lenny Talys story" recently retold to me in an e-mail:
Lenny always went to Renninger's Flea Market [http://www.renningers.com/] and had several regular's he bought from there. He missed the flea market one time and when he went back the next time it was held, one of his regulars told him he had a box of CPC shampoo bottles the time before, but when Lenny didn't show up he sold them cheap to another guy. He had saved the address for Lenny and gave it to him. Lenny went to the guy's house and he was a farmer. He had bought the case of old shampoo to wash his pigs and had already sent all of the bottles to the garbage. Lenny was sick about it.
Always keep a watchful eye and a listening ear! Happy hunting.
If you have any comments, please contact me at george (at) californiaperfumecompany.com.
The Oldest Representative Case!

California Perfume Company Depot Manager's Demonstrator Case
~Probably 1892 to 1893
The wooden case pictured immediately above IS a truly HISTORIC find: to date, this is the oldest, or earliest, example of a California Perfume Company depot manager's wooden demonstrator case! This particular item was probably in use between 1893 and 1894.
Allow me to take a few moments to explain that finding this treasure was something on the order of "dumb luck." While looking through a batch of sixteen wooden cases at Dr. Levitt's home in Minneapolis, Minnesota, I stumbled across this oddity. All I really wanted was a replacement for one of the "poorer condition" wooden cases in my collection...but instead, I discovered an object of "incredible historical significance." This significance is further underscored by several follow-on discoveries and connections discussed below.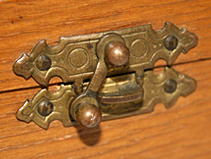 Brass Swing Catch
~Probably 1892 to 1894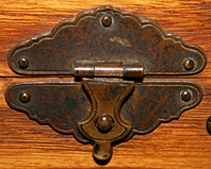 Brass Snap Catch
~1894 to early-1900's
The first thing that drew my attention to this case was the lack of "hook and screw" catches often seen on the sides of the wooden CPC demonstrator cases (see below right). Key Collector's Information: the earliest California Perfume Company depot manager's cases ONLY used a single catch near the handle on the front of the case. Catches on the sides of the cases were added in later versions—probably beginning around 1897 or 1898.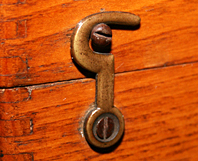 Brass Hook and Screw Catch
~Probably 1896 to early-1900's
The second, and probably most astonishing, attraction regarding this unique treasure was its brass Swing Catch (see upper left) on the front of the case. This represents the only observance of a swing catch used on a CPC depot manager's demonstrator case to date. Of the many, many examples I've personally observed, the COMMON metal catch used to secure the front of all demonstrator cases was the brass Snap Catch (see lower left.) Considering the Swing Catch from purely mechanical and logical standpoints, it can be seen that this catch type would quickly become problematic—snagging on garments, repositioning with vibrations and jarring, etc.—all with the same result: unintended opening of the case. Obviously, the designers noted this flaw and adopted the brass Snap Catch, along with the later Hook and Screw Catches (on the case's sides), on all succeeding wooden demonstrator cases; thus greatly increasing the security of the case's contents during travel.
In an attempt to better determine the case's age, I compared this case with other wooden demonstrator cases in my collection, I found that there were fewer items in the above case's price list than in any of my other wooden cases. I then cross referenced with the 1896 catalog. Whereas the 1896 catalog referenced ten different perfume fragrances, this demonstrator case only listed eight. Moreover, the 1896 catalog referenced a total of 142 different product variations (items and package size differences) and this case listed only 63. Then reviewing a CPC product order form that pre-dated the 1896 catalog (probably from late-1894 to 1895), I found that the order form also listed more products than the above case's price list. Lastly, and most interestingly, a depot manager's business card, tentatively dated 1893 to 1984, was compared with the case's price list. The products mirrored exactly...and they were even presented in the very same order on both the business card and in the case's price list! That was an interesting discovery because I had always thought that the business card's product list was "simply trimmed down" to save space. Now I see that the card, as well as this wooden case's price list, are both bona fide "iterations "detailing the California Perfume Company's expanding sales inventory.
The last point to share concerns the name: California Perfume Company. Though McConnell was clearly working on perfumes prior to 1892, it wasn't until that year that the name—California—became associated with McConnell's perfumes and toiletries venture. Since the demonstrator case above sports the name California Perfume Company, it may be deduced that the case was manufactured during or after 1892. Therefore, looking at the products listed on the case and considering the earliest CPC catalogs and ephemera, this demonstrator case most probably dates from 1893 to 1894.
Happy hunting.
If you have any comments, please contact me at george (at) californiaperfumecompany.com.
The Beginning of the Avon Line!
In a small article buried at the very bottom of page two of the May, 1928 CPC Outlook, the company announces:
Last Minute Good News

WE HAVE ADDED TOOTH BRUSHES TO OUR LINE

They are now ready, so Representatives can take orders for them. As this notice came to the Editorial department at the last minute, we cannot illustrate the tooth brush here. However, it will be shown in the June issue. It is called "Avon," exclusively a CPC creation. It is a high grade, sterilized tooth brush; has fine quality stiff bristles shaped to fit the gums, and sturdy transparent handle. Most people buy a new tooth brush about every two or three months, so this addition to the line opens up another channel for repeat business for our Representatives. See how many you can sell this month. The price is:

50 Cents for the Customer, 33 Cents net Amount


Avon Toothbrush
Picture found in the June, 1928 CPC Outlook
The Avon name as used by the California Perfume Company came into being after David H. McConnell, Sr. keenly observed that, "looking out over the Ramapo hills[, he] was impressed by its striking resemblance to the Stratford-on-Avon countryside!"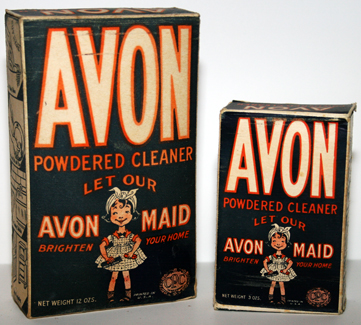 Avon Maid Powdered Cleanser
~1928
Twelve ounce regular size (L) and Three ounce trial size (R)
Suffern, New York, the location of the California Perfume Company laboratory and David and Lucy McConnell's home, is a village in the town of Ramapo, Rockland County, New York. The hills that surround Suffern, from McConnell's perspective, bore a striking resemblance to those hills of Stratford-on-Avon, England. In honor of that similarity, McConnell initiated the Avon line of products which began with the announcement of the Avon Tooth Brush in the May, 1928 CPC Outlook magazine.
The second item of the Avon line was the Avon Powdered Cleanse (as seen to the immediate right) announced in the August, 1928 issue of the CPC Outlook. In order to generate new sales, an introductory package was offered to each customer who placed an order of at least $1.50 retail during the month of August, 1928. The regular size (12 ounce) package of Avon Powdered Cleanser sold for 25¢.
By December, 1928, there were a total of five products within the Avon line: the Avon Tooth Brush, the Avon Powdered Cleanser, the Avon Talc For Men, the Avon Gift Atomizer with Venafleur Perfume, and the Avon Vanity Set.
Throughout the 1930's, all of the products manufactured by the California Perfume Company began to carry the Avon name. Moreover, the labeling of the early-1930's contained, "An AVON Product, California Perfume Co., Inc." By the mid- to late-1930's, Avon became an incorporated division under the California Perfume Company, and the labeling changed to, "Avon Products, Inc. (Div.), California Perfume Co., Inc." Following the passing of McConnell, Sr. in 1937, David H. McConnell, Jr. finalized the transition by renaming the entire company Avon Products, Inc. in 1939 and dropping all reference to the California Perfume Company on products, in catalogs, etc.
Finding the very first of the first Avon items is certainly a great treat for collectors!
Happy hunting.
If you have any comments, please contact me at george (at) californiaperfumecompany.com.
Two Amazing Goetting & Co., NY Finds!

Goetting & Co. NY
Lilly of the Valley Perfume
~early 1900's
Dimensions: ~2 1/2 in. x 1 1/2 in.


Goetting & Co., NY Salesman Calling Card
~1906
Mr. H. E. Burk, Salesman, on his 1906 Model B Reo Roaster
The term "AMAZING" really doesn't do justice to these two remarkable Goetting & Co., NY finds!
Adolph Goetting was a prominent New York perfumer in the late 1800's whose wares were found in many retail establishments throughout much of the mid-Atlantic region of the eastern United States. Goetting's reputation was such that David H. McConnell recruited Goetting in 1896 to become the Chief Chemist of the California Perfume Company. This required McConnell to "buy out" Goetting & Co., NY lock, stock, and barrel (read more about Goetting & Co., NY.) But that wasn't the end of the story for the Goetting products. McConnell made the business decision to continue production of perfumes and toiletries under the Goetting label and supply retail outlets across the country, greatly expanding the original, more-regional customer (buyer) base for these superior items.
The Lilly of the Valley perfume bottle (above left) is an absolute rarity, the only one know to exist. The small, round-bodied bottle holds approximately 1/4 ounce of perfume. The label style is the same as that seen on several other Goetting & Co. perfume bottles manufactured in the 1900 to 1905 time frame. From a collector's standpoint, it is interesting to note that so few Goetting & Co., NY toiletries have been discovered to date as compared to the California Perfume Company products.
As discussed in the first paragraph, McConnell marketed the Goetting products throughout the United States. The picture (above right) from a post card sized calling card shows a Goetting & Co., NY salesman on his 1906 Model B Reo Runabout. The card announces Mr. Burk's return call on 6 September and the card (opposite side) is marked 1906. Please note the sign on the rear portion of the vehicle displays, " GOETTING & CO, PERFUMES and SOAPS, 126 Chambers St. N.Y. This is the first example ever found of a Goetting & Co., NY representative calling card.
Stunning finds! And both are approximately 105 years old!
Happy hunting.
If you have any comments, please contact me at george (at) californiaperfumecompany.com.
Another "Source" in the Avon Story!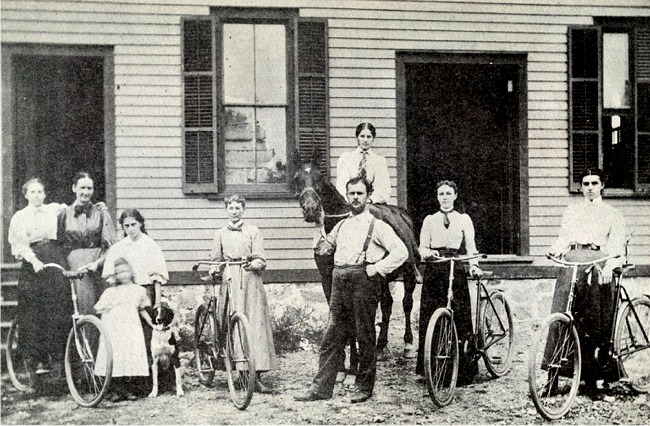 IN FRONT OF SUFFERN PLANT 1897
Left to right: Laura Akers (Slocum), Susie Blauvelt, Doris McConnell (Faile), Edna McConnell (Clark), Monsey (the dog), Alice Akers, Eli Carey, on horse - Jessie Swan (Bond), Minnie Abrams (Nugent), Gertrude Wanamaker (Wemmerus)
~1897
One of the most important goals of the California Perfume Company web site is documenting and sharing the truly rich, and very important, early history of Avon Products, Inc. A recent discovery opened an entirely new source for this research effort—a source that delves into areas of Avon's past that will not be found in Outlooks, Bulletins, and catalogs. The amazing discovery was the "lot" of "Family Album" periodicals spanning 1941 through the early-1950's!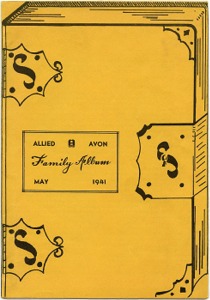 Allied Avon Family Album
Vol. 1, Number 3
~May 1941
During the 1930's, prior to the California Perfume Company's name change to Avon Products, Inc., David H. McConnell, Sr. set up an overarching (umbrella) corporation originally named Allied Products, Inc. The California Perfume Company and Avon Products, Inc. became subsidiaries of Allied Products, Inc. (along with others.) In 1945, the umbrella corporation was renamed Avon Allied Products, Inc. The name was shortened to Avon Products, Inc. in 1950 and has remained the same to this day. Beginning in March of 1941, Allied Products began publishing a 20-ish page monthly periodical called, "Family Album."
This company organ was filled with human interest information relating to the workers of the Suffern plant (and later the Middletown plant also): sporting statistics of the many company leagues (basketball, bowling, golf, softball, and more), weddings and anniversaries, births and birthdays, obituaries, community support, Christmas banquets, Summer outings, and other social events, and so, so much more. Along with these human interest treasures, there were small articles, single pictures with little amplifying text, and other fascinating snippets of information relating to the company's history reaching back to its earliest days.
Incredibly, the picture above that caps this article is absolutely astonishing. First, the picture is apparently dated from 1897. Second, the picture was taken outside of the front of the Suffern Laboratory sometime closely following the Laboratory's construction. Third, and of utmost significance to this web site, this represents the ONLY known picture (thus far) of McConnell's two daughters: Doris (blurred face) and Edna, both standing beside Monsey the dog!
Suffern Plant
~1899
Note: The Elevator Shaft is Now in the Front of the Building
As far as the Laboratory is concerned, this picture may prove significant BECAUSE something is apparently missing! Note that this photograph was claimed to be taken in FRONT of the Suffern Laboratory. Looking at the standard pictures of the front of the Suffern Laboratory, the building (at ground level) contains one door to the left, two windows, and an enclosed elevator (or other pulley-style lift.) Note that the roof lines do not flow together. The primary roof and the roof of the enclosed elevator seem to be separate/distinct roves. In the above picture, there is a wider door without steps between the two front windows: for shipping and receiving from wagons. The later pictures also have this wider door without steps incorporated into the elevator enclosure. All this is to say, the picture above also represents the earliest known photograph of the Suffern Laboratory, BEFORE the classic elevator enclosure was added to the front of the building!
What a find!
If you have any comments, please contact me at george (at) californiaperfumecompany.com.
A Trove of Early Treasures!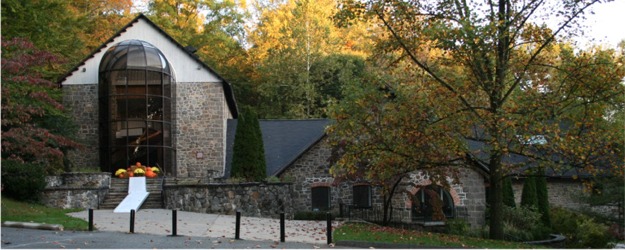 Soda House at the Hagley Museum and Library Holiday - Repository of the Avon Archives
~October 2010
It is truly a pleasure to commend the extraordinary accomplishments of all the people, firms, and institutions that further the hobby of California Perfume Company and Avon collecting. And with that, the Hagley Museum and Library has definitely scored a winning run with their recent addition of the Avon Historical Archives on the museum's web site. Clearly a breakthrough for all collector's, Hagley provides electronic access to some the most valued treasures within Avon's Archives; catalogs, Outlooks and Bulletins, and miscellaneous pictures—free for viewing by all! For my part, the 1905-1910 Outlooks have already provided invaluable information that has helped further refine the California Perfume Company web site with dates and facts. I appreciate the very hard work of Ms. Lynn Catanese, Curator, Manuscripts and Archives. Ms. Catanese has primary responsibility for the Avon Archives (among many others.) I definitely promote an electronic trip to the Hagley to see this phenomenally important exhibit.
Before leaving this subject, I have to share one of the interesting "new" facts that I discovered in Hagley's Avon Historical Archives:
As you will note throughout the web site, pictures of early products, especially those larger sizes (e.g., Quart, Half Gallon, Gallon, Five Pounds, etc.) are extremely rare. The following snippet was found at the end of the July 1905 Outlook's front page article:
We have gotten out 23 photographic illustrations of good sellers. They are executed most attractively, bound like an album. They are the exact size of the packages that you are to deliver. If you want a set of these photographs all you have to do is to drop me a line by return mail, and I will send you a set at once; they will enable you to take very many orders for goods that you now feel you cannot carry with you, and by showing up the exact reproduction of the package itself, you will be able to interest people and take their orders.

Please bear in mind that these photographic illustrations are all ready to send out, and will be mailed just as promptly as we receive your request for them. I shall be very much disappointed if, when you receive your set, you do not sit down and write me that they are going to be of great help to you in your work, and that by the aid of these illustrations and renewed energy, you are going to be able to just double the business that you have done heretofore.

With very best wishes for your success this coming month, I beg to remain.

Yours very truly,
D. H. McCONNELL,
Pres., California Perfume Co.
The discovery of this 23 photograph sales aid would be a HUGE find for CPC and Avon collectors as it photographically (NOT hand-drawn) depicted larger size/Vol. items that the representatives normally could not carry. That would be quite a find. And it was because Hagley Museum and Library made the Avon Historical Archives available that this critical piece of collecting information resurfaced now, after more than a century!
If you have any comments, please contact me at george (at) californiaperfumecompany.com.
Main Navigation | Newest Finds —- Page 1 | 2 | 3 | Next>