The Previous Newest Finds
Main Navigation | Newest Finds —- <Previous | Page 1 | 2 | 3
An Interesting History Lesson
Other McConnell Concerns


D. H. McConnell & Company Advertisement in the New York Daily Tribune, 4 July 1896
I think that one of the most interesting aspects of collecting California Perfume Company items and material is that Mr. David H. McConnell, Sr. really broke the boundaries of normal entrepreneurism to establish a veritable historical landmark within the American culture. It was his vision that brought quality consumable goods to the people—that were "money-back guaranteed"—a feat almost unheard of at that time! Furthermore, McConnell's vision enabled the women of America to stand on their own, even before women were granted the right to vote (e.g., Women's Suffrage, 1919, 19th Amendment to the US Constitution). He provided a means for women of that day to make substantial income based on their ambition (and to a lesser degree, their location). McConnell had a willing and able workforce that grew into the millions. Truly, D. H. McConnell was an entrepreneur extraordinaire!
The reason I bestow the title, "entrepreneur extraordinaire" to McConnell is not simply because of his outstanding success with the California Perfume Company, it's due to other business activities that have come to my attention over the years! A friend of mine who is deeply involved in genealogy and family history opened my eyes to an entirely new area of research: the American chronicles...the newspapers. There are several outstanding newspaper archive sites that afford access to millions upon millions of pages of newspapers from around the country dating back to the earliest years of our nation (for a very modest fee, of course.) The fact is this previously untapped GREAT wealth of information helped me to understand some of McConnell business dealings and relationships. And there is one fact that clearly emerged from the research thus far: McConnell was the consummate entrepreneur!
McConnell, primarily in partnership with Alexander D. Henderson, initiated many business ventures—some even competing with the California Perfume Company, while some were complementary. Most recently I came across the following entry in the Directory of Directors in the city of New York, 1915-1916:
McCONNELL, DAVID H., of the firms of Goetting & Co. and D. H. McConnell & Co., 31 Park Place.
Art Color Plate Engraving Co., Dir.
Bon-Air Heights Co., Dir.
California Perfume Co., Pres., and Dir.
G. W. Carnrick Co., Treas. and Dir.
Mecca Oil Co., Pres. and Dir.
Mecca Oil Co. No. 2, Pres. and Dir.
Merchants Land & Development Co., V. Pres. and Dir.
Mutual Manufacturing Co., Pres. and Dir.
N. Y. Canada Farms, V. Pres. and Dir.
Ramapo Land & Development Co., Pres., Treas. and Dir.


Mutual Manufacturing Co. Advertisement from the Nebraska State Journal, 28 November 1897
In this web site, I will bring to you whatever information I can find about these companies! Yet, the most fascinating, and exciting, point is that this opens up vast new fields of collectible possibilities! If you know of anything relating to these companies, or you happen to locate further information on David H. McConnell, Sr., please contact me at george (at) californiaperfumecompany.com!
Happy hunting!!!
A Different Natoma Container!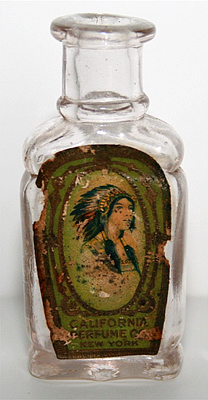 A Somewhat Different Natoma Rose Perfume Container
A-Size — 1/2 Ounce
~1917-1918
Updated Article:
To jump right in and get you the "Bottom Line Up Front" (the BLUF), this is the first example found thus far of the Natoma Rose perfume being put up in this particular A-Size (1/2 ounce) container. And, based on the label, this item was probably sold around 1916 to 1918.
The Natoma fragrance line is one of the most sought after in all of California Perfume Company collecting. The real attraction of these bottles rests solely in their labels which depict the portrait of a young Native American maiden (read McConnell's real inspiration for the Natoma name). Consequently, the maiden's portrait also attracts the attention of bottle collectors, perfume collectors, tin collectors, and, of course, collectors of items bearing the Native American likenesses. All that is to say, the competition to purchase/acquire one of these rarities can be quite stiff!
The California Perfume Company used this particular style of A-Size bottle to put up many of its fragrances from approximately 1909 through the very early-1920's, primarily in sets such as the Holly Sets. (Note: this bottle, however, was not from a Holly Set; only triple-extract fragrances were sold in the Holly Set. The Natoma Rose was classified as an "Extra Concentrated" perfume.) Often the distinguishing factor for determining the date of one of these bottles is the glass stopper. The style of the glass stopper was basically changed from year to year (see the Floral Perfume Section for examples).
The Natoma fragrance was available from late-1911/early 1912 through 1923. The company introduced the Natoma Rolling Massage Cream and the Natoma Talcum Powder. It wasn't until 1914 that the CPC began selling the Natoma Rose perfume in one and two ounce bottles. In 1915 and 1916, Natoma Rose perfume was available in one, two, and four ounce bottles; The company did not offer the A-size container in either 1915 or 1916 catalogs. (I do not have a 1917 catalog. I do have a 1918 catalog.) By 1918, Natoma Rose perfume was packaged in the A-Size along with the one, two, and four ounce bottles. An interesting anomaly about this A-sized bottle is the use of the label attributed to the Natoma Rose Special 1/2 ounce bottle (designated the Gift Box N.) So, knowing the company transitioned to dedicated A-sized bottle and label-style around 1918 to 1919 (also seen in the Natoma section), I strongly believe that this rarity dates to the 1917-1918 time frame.
Keep looking for these neat treasures out there! I believe there are still so many more to find! Good hunting!
If you have any thoughts on this article, please write to me at george (at) californiaperfumecompany.com.
December 1906 CP Advertisement!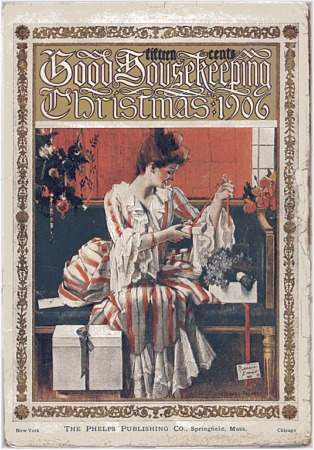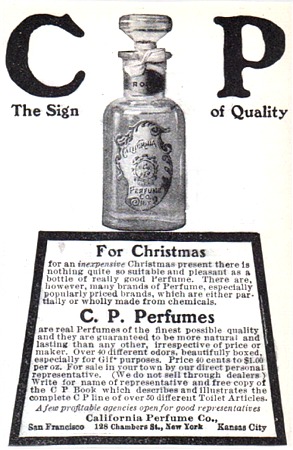 California Perfume Company Advertisement featuring Roses perfume
~December 1906
Cover of Good Housekeeping Magazine (L) and CP Christmas Advertisement (R)
Note: The address remains incorrectly rendered: 128 Chambers St., New York
As many of you know, I actually started out my California Perfume collecting with a particular focus on the paperwork: catalogs, brochures, Outlooks, Bulletins, customer handouts—the list can be virtually endless. I believe the real allure of the paperwork comes from the wealth of historical information that can be gleaned from any and all bits and scraps...often it's like cracking open the annuls of history, thus giving us a glimpse of the past, our past, a bygone era. Within that paperwork genera, national-level advertisement takes a premier spot!
With the recent purchase of a December 1906 issue of Good Housekeeping magazine, I now have acquired the full year's offering. Consequently, the discovery of the above pictured 1/4 page CP advertisement (see above right) is particularly intriguing to me. The first instance of the California Perfume Company engaging in a national level marketing campaign occurred in March 1906 with a similar 1/4 page advertisement announcing the company's new odor: Roses. Until recently, I surmised that McConnell only ran these 1/4 page ads in subsequent Good Housekeeping magazines through October 1906...then I acquired the November 1906 issue...and now this December 1906 issue. So, the fact is that McConnell purchased his run to include ten months of 1/4 page advertising. Interesting highlights are that 1) the series ended with Roses perfume, just as it started; and 2) the Phelps Publishing company once again got the CP company address wrong—128 Chambers Street (please see the July through November advertisements).
On an interesting side note, it was during this same general time frame that McConnell was engaged in advertising Goetting & Co., New York. In 1905 to 1907 McConnell purchased two advertising runs in somewhat substantive daily news outlets comprising ten successive advertisements on ten successive weeks. The last advertisement ran just before Christmas (see one of these Goetting ads). I mention this "side note" primarily due to McConnell's use of ten success intervals (weeks or months)...and it seemed to work!
An Update to this Article:
I did purchase a January 1907 Good Housekeeping magazine. I meticulously searched the pages front to back and I found NO advertisement for the California Perfume Company. So, it's official! The first advertisement run—at least on a national scale—ran for ten months in the March through December 1906 editions of Good Housekeeping magazine.
If you have any thoughts on this article, please write to me at george (at) californiaperfumecompany.com.
The 1909-1914 8-Ounce Violet Toilet Water!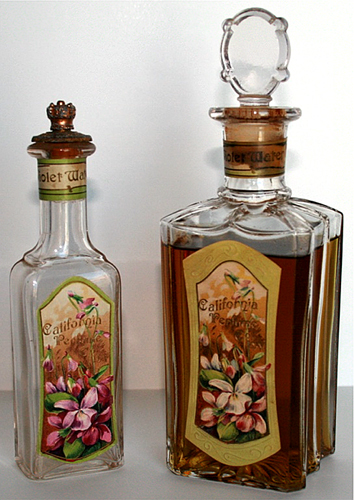 Violet Toilet Waters
~1909-1914
(Two ounce bottle (L) and Eight ounce bottle (R))
Note: There is embossed scrolling on the upper and lower portions of the Eight ounce bottle's label.
OSP for the two ounce bottle (in 1914): 35¢
OSP for the eight ounce (half pint) bottle (in 1914): $1.25
This is a special treat in deed! Any time that two or more different-sized items of a particular product—in this case, two Violet Toilet Waters from approximately 1909-1914—are displayed side-by-side, it gives one a much better appreciation for the products manufactured, the array of customer purchase choices, and, sometimes, just the plain beauty associated with the larger bottles...as in this case as well. Note the label on the eight ounce bottle. It contains embossed scrolling on the upper and lower portions of the label. From the CPC catalog view, and those examples seen in the Collector's Encyclopedias, the scrolling is not visible. I, myself, thought that the label was poorly cut resulting in overly wide borders. But, as hopefully can be seen in this photograph above, that is not the case. And the glass bottle itself is also quite beautiful and ornate.
Happy hunting!
If you have any thoughts on this article, please write to me at george (at) californiaperfumecompany.com.

Main Navigation | Newest Finds —- <Previous | Page 1 | 2 | 3