Natoma Talcum Tin Order Form - 1912
CP Products — <Previous | Page 1 | 2 | 3 | 4 | Next>
Below is the Manufacture's Proof Tins for the early Natoma Rose Talcum tins, both large and small. The paperwork indicates that the below material dates from August and September, 1912.
(Click on the below pictures for a close-up view!)
| | |
| --- | --- |
| 1912 Order Form for 25,00 Natoma Talcum Powder Tins using the "Colgate Oval Talcum Powder Body dies." | |

Paper detailing the processing of the Natoma Talcum Tin bodies from 30 August through 16 September, 1912 with an apparent total items completed being 26,000.


Outer Envelope containing the Paperwork and Proof Tins
(Not Shown to Scale)
Not Hyperlinked to Close-up View.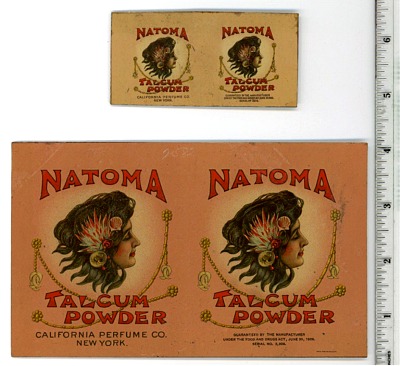 Proof Tins for the Small and Large Natoma Talcum Powder Tins