Gift and Holiday Boxes/Sets
CP Products — Page 1 | 2 | 3 | Next>

Gift Box No. 1
~1897-1898
One ounce bottle of perfume put up in a
handsomely decorated box.
OSP — depending on odors — (in 1897): ..... 60¢


The Gift and Holiday Boxes and Sets:

Very early in history of the California Perfume Company , D. H. McConnell discovered the popularity of the atomizer sets (three bottle of perfume and an atomizer) which virtually guaranteed the success of his direct-sales Depot Agent workforce.

Beginning in 1897, McConnell expanded his inventory to include Gift Boxes and Sets, and then Holiday Boxes and Sets. These were either single or multiple bottles of perfume or sets of perfume and sundry toiletries put up in ornate packaging sold for a very reasonable cost. McConnell's visionary product expansion into the Gift and Holiday Boxes and Sets (which later evolved into Gift Perfumes and Women's and Men's Sets) was amazingly successful as evidenced by their continued demand throughout the decades, even until today.

PLEASE NOTE: In several instances, Gift Box catalogs carried by the Depot Agents/Representatives at Christmas time illustrated those special sets only available during the holiday season AND some sets normally available throughout the year. Therefore, additional Gift Box sets may be found in other sections of the web site, such as: Little Folks Sets, American Ideal Sets, Violet Sets, Gentlemen's Shaving Sets, etc.

Gift Box No. 2
~1897-1898
Six-sided possibly two ounce bottle of perfume with cut-glass
stopper put up in a handsomely decorated box.
OSP — depending on odors — (in 1897): ..... $1.00



Gift Box No. 3
~1897-1898
Two "artistically-shaped" one ounce bottles of perfume
put up in a handsomely decorated box.
OSP — depending on odors — (in 1897): ..... $1.25


Gift Box No. 4
~1897-1898
One extra-large (possibly four ounce) bottle of perfume with
cut-glass stopper put up in a handsomely decorated box.
OSP — depending on odors — (in 1897): ..... $1.50



Gift Box No. 5
~1897-1898
One tapered bottle with base measuring 2 1/4 inches by
2 1/4 inches (possibly two ounce) with atomizer
put up in a handsomely decorated box.
OSP — depending on odors — (in 1897): ..... $1.50


Holiday Gift Box No. 1
~1903
Introduced as the California "Little Folks," the set contained
four gem-sized bottles of Triple Extract perfumes, put up
and packaged just for "our Little Folks."
OSP (in 1903): ..... 40¢


Holiday Gift Box No. 2
~1903
One and a quarter ounce imitation Cut Glass
Stoppered bottle put up in elegant packaging.
OSP — depending on odors — (in 1903): ..... 60¢

Holiday Gift Box No. 3
~1903
Cut Glass Vinaigrette mounted with heavy Sterling Silver Cap;
suitable for Lavender Smelling Salts or Perfume.
OSP (in 1903): ..... 75¢


Holiday Gift Box No. 5
~1903
A Christmas box, covered with elegant
Holly paper containing two one ounce
glass-stoppered bottles of perfume.
OSP — depending on odors — (in 1903): ..... $1.00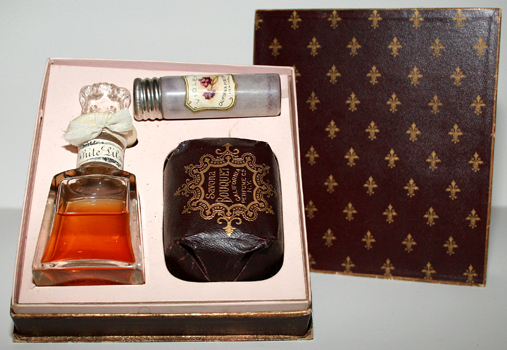 Holiday Gift Box No. 4
~1903-1909
Combination Gift Box containing a one and a quarter ounce imitation Cut Glass Stoppered bottle
(same as the 1903 Gift Box No. 2), one cake of Savona Perfumed Toilet Soap,
and a bottle of Sachet Powder.
OSP — depending on odors — (in 1903): ..... $1.00

Holiday Gift Box No. 6
~1903-1906
Elegant satin-lined box containing one four ounce
bottle of perfume.
OSP — depending on odors — (in 1903): ..... $2.00


Holiday Gift Box No. 7
~1903-1906
Elegant satin-lined box containing one eight ounce
bottle of perfume.
OSP — depending on odors — (in 1903): ..... $3.50

California Bouquet (L) and Heliotrope (R) Perfumes
~1903-1906
(Four ounce bottle (L) and Eight ounce bottle (R))
Note: See immediately above and right


Unknown Fragrance Perfume
~1905-1906
(Four ounce bottle with box from 1905 Christmas catalog)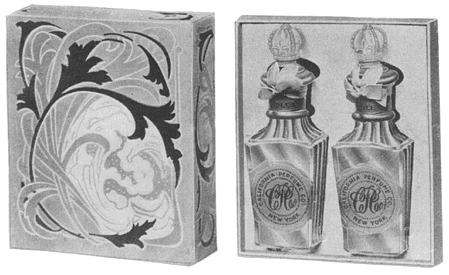 Gift Box No. 2
~1905-1906
Lithographed box contains two one half ounce bottles of perfume with Crowned Glass Stoppers in cork.
OSP — depending on odors — (in 1905): ..... 50¢
Footnotes: OSP: Original Selling Price
CP Products — Page 1 | 2 | 3 | Next>