Representatives' Pins

Gold California Perfume Company ID Pin
~1916-1925
Width: ~11/16 Inches


From the December 1916 CPC Outlook:

No. 2. Sales Managers whose Christmas order amounts to $30 or over at wholes sale (which is $50 or more at retail) will be presented, besides cash commissions, with the

C P C Solid Gold Emblem Pin

Not plated, but pure gold, the design being roister in burnished letters and chain upon a Lull finish background. Safety catch to prevent your losing it. This pin is solid gold throughout. Every Representative should wear the insignia of the Institution he or she represents.

In the December 1922 CPC Outlook, the above gold pin was to be offered to the 12 top individual sales earners (referring to the largest amount sold to a single customer) each month in addition to having their names included in the "NEW" Honor Roll published in the CPC Outlooks. To be fair, a representative could only receive this distinction once.

CPC Representative ID Pin
~1925-1929
Width: ~3/4 Inches
Note: Graciously Contributed by Carl


CPC Representative Honor Pin
~1925-1929
Width: ~3/4 Inches


CPC Representative ID Pin
~Probably 1925-1929
Width: ~3/4 Inches
Note: This pin is very rare

Avon Representative ID Pin
~1930-1935
Width: ~1 Inch



Avon Representative Honor Pin
~1930-1935
Width: ~1 Inch
Note: Graciously Contributed by Carl


Avon Representative ID Pin
~1930-1935
Width: ~3/4 Inches



Avon Representative Honor Pin
~1930-1935
Width: ~3/4 Inches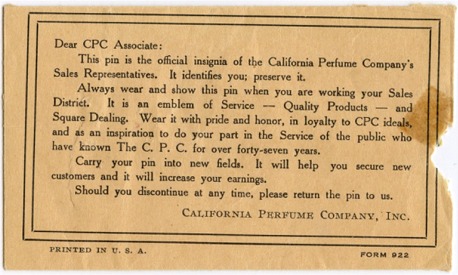 Envelope for the CPC Avon Representative ID Pin
~1933
Note: The reference above to forty-seven years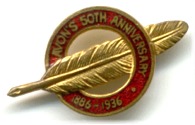 Avon's 50th Anniversary Representative ID Pin
~1936
Width: ~1 1/4 Inches


Avon Representative ID Pin
~1936-Avon
Height: ~3/4 Inches



Avon Representative ID Pin
~1936-Avon
Height: ~3/4 Inches



Service Counsel Satisfaction
Medallion
~1938
Height: ~1 1/8 Inches