Representatives' Periodicals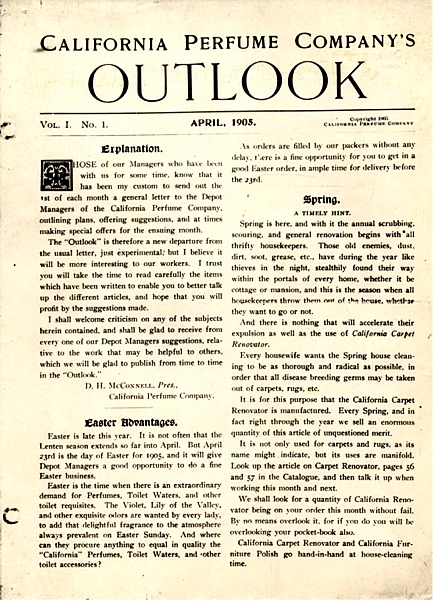 Reproduction of the First Page of the California Perfume Company Outlook Vol. 1 No. 1
~April, 1905
As explained by Mr. D. H. McConnell, Sr. in his inaugural Outlook Magazine (shown immediately above), published on 3 April, 1905, the new monthly magazine was meant to replace McConnell's customary company letter that was mailed out to the representatives on the first of each month—wherein he outlined plans, offered suggestions, detailed products and awards, and at times made special offers for the ensuing month. The Outlooks were an overwhelming success and continued through the company's transition into Avon Products, Inc. with the last issue of the Avon Outlook being published in the early 1970's.
A supplemental periodical to the Outlook magazine was introduced on 15 October, 1908: The CPC Bulletin. This too provided representatives with sales, products, and awards information. The last CPC Bulletin was published in February, 1928 and the content was absorbed into the CPC and Avon Outlooks. Note: The issuance of the earliest Bulletins were, "as needed." The Bulletins were not originally published on a monthly basis.
Interestingly, for a short period during 1918 to 1919 (during World War I), the CPC Bulletin's name was changed to the CPC News.
Please see the CPC Web Site Library for complete CPC and Avon Outlooks, CPC Bulletins, and CPC News magazines.

CPC Outlook
~June, 1912


CPC Outlook
~November, 1924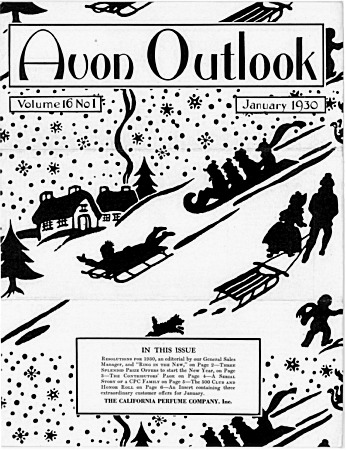 Avon Outlook
~January, 1930
Note: The January 1930 edition was the first to be renamed "Avon Outlook"

CP Bulletin
~15 May, 1909


CPC News
~August, 1918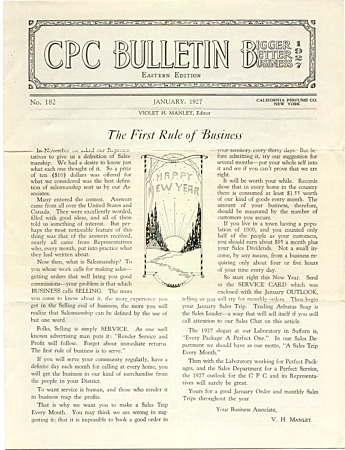 CPC Bulletin
~January, 1927