The Good Housekeeping Seal of Approval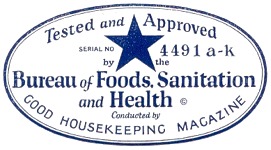 Good Housekeeping Approves CPC-Avon Products
Tell All Your Customers About the Seal of Approval Awarded Us by the
Good Housekeeping Bureau of Foods, Sanitation, and Health
These Products are Now Authorized to Carry the Famous
Good Housekeeping Seal of Approval

AVON CLEANSING CREAM
AVON TALCUM
AVON TISSUE CREAM
AVON FACE POWDER
AVON ROSE WATER, GLYCERINE and BENZOIN
AVON DUSTING POWDER
AVON ASTRINGENT
AVON SKIN FRESHENER
AVON LIQUID POWDER
AVON LIQUID SHAMPOO
AVON LOTUS CREAM
We are mighty proud to announce that eleven CPC-Avon products have been tested by the Good Housekeeping Bureau of Foods, Sanitation and Health. Each one met the rigid requirements of this famous testing bureau and is now entitled to bear the Bureau's Seal of Approval, which for 18 years has stood for quality, purity and truthful labeling.
How This Will Help You on Your Sales Trips
This approval will be of tremendous help to you on your sales trips. For one of the most difficult things which our Company has had to overcome in our business is the prejudice in some people's minds against goods sold direct to the consumer, on account of the poor quality merchandise put out by some unscrupulous firms.
You Now Have Two Powerful Selling Aids
But now, when we say to any home-maker that our goods are approved by the Good Housekeeping Bureau, she knows immediately that they are of the very highest quality, even though she may not be familiar with the high standard for which the name California Perfume Company has always stood.
In addition to the Good Housekeeping Seal, you also have another powerful sales aid, —the fact that your Company — the California Perfume Company — has been manufacturing and selling for 45 years. Anyone will realize that our goods must be right or we could not have stayed in business so long.
What is the Good Housekeeping Bureau of Foods, Sanitation and Health
Good Housekeeping Magazine has served women interested in improving their standard of living and running their homes economically and well, for nearly 46 years.
Back in 1912 Dr. Harvey W. Wiley, the pioneer in Food Legislation, founded the Good Housekeeping Bureau of Foods, Sanitation and Health, which is now conducted by this time-tested magazine, under the direction of Dr. Walter Eddy of Columbia University. This bureau tests products within its scope — foods, cosmetics, etc., and awards the seal of approval — which is shown on this page — when they meet definite standards for purity and quality, and measure up to the claims on the label of the package. This well known seal of approval — the star in the oval, as shown above — has become a buying guide for millions of shoppers. It shows that the goods which bear it are endorsed by highly trained and experienced men and women who have tried them in the splendidly equipped laboratories of this famous magazine.
Take Full Advantage of this Powerful Sales Aid when Suggesting to
Your Customers, the Items Listed on this Page.
Picture and Excerpt above from the July 1931 Avon Outlook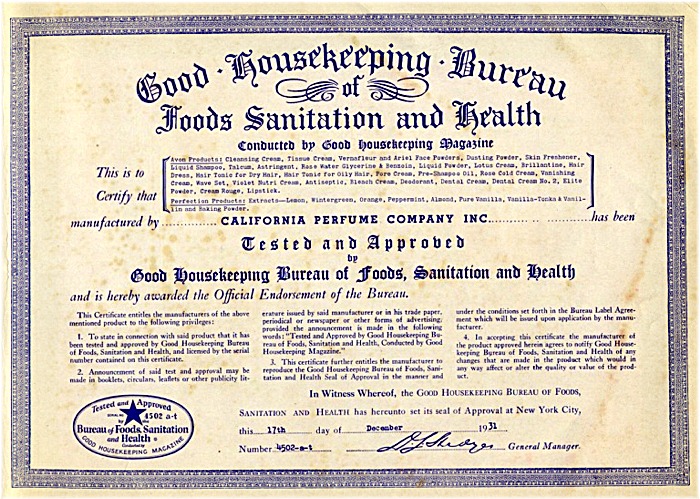 Good Housekeeping Certificate
~17 December 1931