Representatives' Awards
CP Products | Depot Managers — Page 1 | 2 | Next>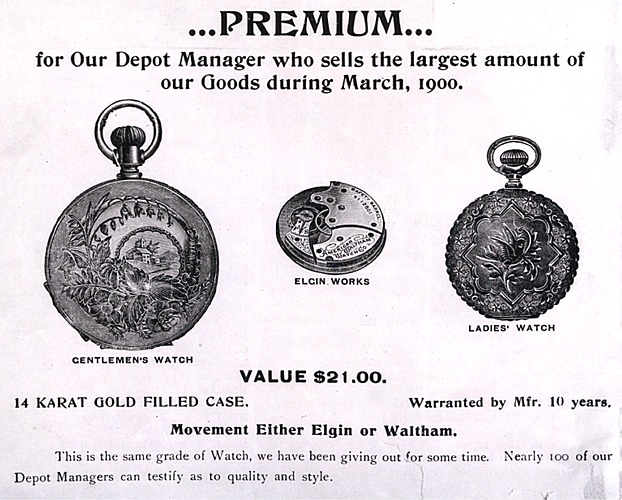 Gentlemen's and Ladies' Award Watch for Sales During March, 1900
~1900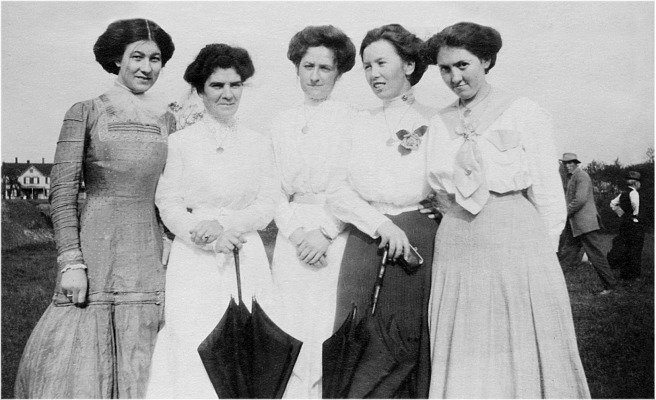 Four California Perfume Company Representatives - Four (rightmost) are wearing their Award Watches
~Early-1900's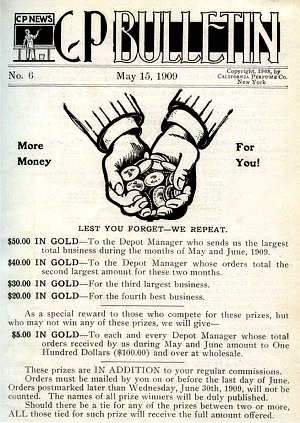 CP Bulletin Front Page
~15 May, 1909
Award of REAL gold for total business sales
during the months of May and June, 1909.
Representative Awards:
From the humble beginnings of the California Perfume Company, David H. McConnell understood the importance of valuing his ever-growing Depot Manager (Representative) work force. Above and beyond the extraordinary 40% sales commission and the superior sales advice from such an accomplished entrepreneur, McConnell offered a wide variety of award incentives, from the luxurious to the practical, from ornamental to the functional. Awards included: gold-filled Elgin or Waltham Gentlemen's and Ladies' Watches (see above), Limoges China sets, Japanese Minks, Oak Furniture, Rogers' Silverware sets and AUTOMOBILES! As well, there were vacuum cleaners, umbrellas, ice cream makers, lamps, cameras, cases, travel bags and so, so much more. And let's not forget cash—McConnell would often award $5.00 to $50.00 in gold coins TOO! (See 1909 CP Bulletin cover to the right.) McConnell and the California Perfume Company truly brought the finer and better things of the retail world into the able-bodied, and motivated, hands of the most eager and enterprising sales people.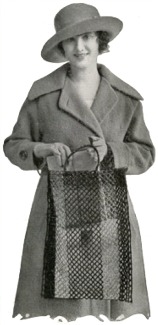 CPC Carry All
Shopping Bag
~August 1921
Awarded for selling 25
Boxes of Face Powder
or Face Powder Books
There are two important points to be discussed about the Awards: 1) how were the representatives informed of these awards? And 2) when did McConnell begin offering awards that were specifically manufactured for or by the California Perfume Company?
The "how were representatives informed?" questions is a lot easier (simpler) to answer than the second question! Before the advent of the Outlook magazine in April, 1905 and the CP Bulletin in October ,1908, McConnell would send a "general letter" to all the Depot Managers and General Agents on a monthly basis. This letter varied in length and sometimes included a flyer depicting new products and awards announcements. The letters themselves also made textual reference to the products and awards. The Outlooks, and the later Bulletins, became the primary instrument for McConnell to communicate with his workforce. And it was in the pages of the Outlooks and Bulletins, rather than letters and flyers, that McConnell was able to announce and depict incentives in a more meaningful and motivational way—as exampled by the cupped hands (above) filled with coin money with the announcement of awards ranging from $5.00 to $50.00 in real gold.
So, "when did McConnell begin offering awards that were specifically manufactured for or by the California Perfume Company?" The short answer is: in the early-1910's! Throughout the CPC and early-Avon years, McConnell primarily brought to his workforce awards that were available for purchase on the retail market...good, solid, reputable, and well-known names (as mentioned above): Brush Runabout, Ford, Elgin, Waltham, Holmes and Edwards, Imperial, Rogers, Kodak, Torrington, etc. Beginning in the early-1910's, McConnell "inserted" award items that were specifically designed for, manufactured by, or somehow marked as, the California Perfume Company, and later, Avon Products, Inc. The representatives' awards shown in this section are not simply retail products, but were somehow identified with the California Perfume Company and/or Avon Products, Inc.

Leather Pillow Slip with "Natoma" Indian Head
~January, 1913
Awarded to every Sales Manager with total of $60.00 wholesale between 1 October and 31 December, 1912.


Leather Table Cover with "Natoma" Indian Head**
(**Also offered with Male Indian Head or Floral Design)
~August 1913
Awarded to every Sales Manager acquiring a total of 60 "runs"
with different sales equating to "bases" achieved during the
month of August 1913.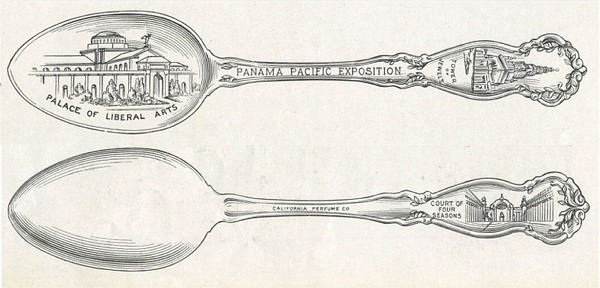 Panama Pacific Exposition Commemorative Tea Spoon
~May to December 1915
Awarded to throughout the later two-thirds of 1915 for various sales achievements.
Note: These are probably one of the most common of the CPC collectibles, obviously because of their plentiful use as an
award item and their durability over the years. The actual rarity is its original outer paper envelope.

Desk Valet Award
~1922




Engravings on the Desk Valet (left):
"C P C" is on the left side (yellow circle)
"1922" is on the right side (red circle)

Pewter Award Vase
~1924
Inscription: To Lucy Weber, From the California Perfume Company, First Prize, 1924, Sales Contest.
Note: Pictures used by permission of the
Hagley Museum and Library

American Beauty Fragrance Jar Award
~1924
Note: The jar was hand-painted in blue and gold with pink and green flowers atop the
glass stopper. A pink ribbon was placed around the neck of the jar.

Mission Garden Cut Glass
Perfume Bottle
~1923
Artistically cut glass with Sterling Silver design. Stopper and foot are enameled in blue. Eight inches tall; contains 1 3/4 ounces of Mission Garden Perfume.


Rose Perfume Lamp
~1927
Heavy frosted glass fashioned after a big rose in rose color. Sets on a metal base of antique green. Included a Flaconette of Vernafleur perfume.


De Vilbiss Atomizer with
Jardin D'Amour Perfume
~1927
De Vilbiss Atomizer, opaque crystal is peacock blue; embossed in gold. One ounce of Jardin D'Amour perfume provided with each atomizer.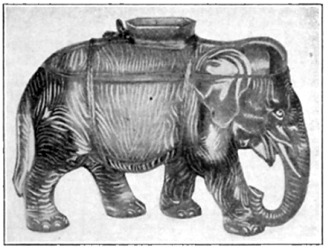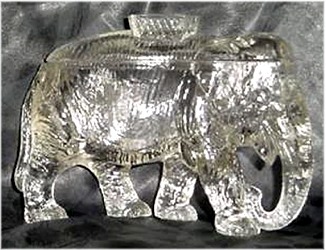 Crystal Elephant Award Filled With Vernafleur Bath Salts
~1928
Hocking Glass Company Crystal Elephant filled with Vernafleur Bath Salts. Dimensions: 4 1/2 inches tall x 6 inches in length. Originally manufactured as a candy container, the CPC awarded 36 crystal elephants as prizes in March-April, 1928.
Note: This elephant award represents the FIRST "Figural" used by the California Perfume Company and Avon.
Additional Note: Beginning in the late-1910's to early-1920's, the California Perfume Company would, on rare occasions, also award the representatives some of the more upscale CPC and Avon Gifts and Perfumes (e.g., the 1920 Gift Box F, the 1921 American ideal Gift Set, and the 1923 Daphne Threesome.)
CP Products | Depot Managers — Page 1 | 2 | Next>