Hinze Ambrosia, Inc.

Ambrosia Astringent Tonic
~Late-1920's
Note: Pictured used by permission of the Hagley Museum and Library


Ambrosia Facial Astringent (L) and After Shave (R)
~Late-1940's to early-1950's
Volumes: Astringent - 3 ounces and After Shave - 0.8 ounces
Extremely little information has surfaced thus far concerning Hinze Ambrosia, Inc.—a company once dubbed "McConnell, Jr.'s "baby".
In a document prepared in February 1945 by Mr. John E. Gabrielsen to Mr. J. A. Ewald, then President of Avon Allied Products, Inc., entitled, "A Brief Resume of the History of Hinze Ambrosia, Inc., Its Potential for the Present and Future", the beginning of this somewhat short-lived company is explained. Mr. Gabrielsen writes,

Ambrosia Deep Pore Cleaner
Store Placard
~Late-1930's to early-1940's
Dimensions: 43 in. x 22 1/2 in.

"This company was incorporated and organized in July of 1928. It began to operate actively as a distributor of AMBROSIA, the a pore-deep Cleanser in 1929. Merchandise was sold and distributed to and through the retail channels of the drug trade, namely, the department stores, wholesale drug jobbers, chain drug stores and a few select independent drug stores. Sales and initial distribution were achieved through the employment of company sales representatives, tremendous pressure of advertising and various promotions and free deals of one sort or another."

"This method of obtaining sales and distribution was most successful and achieved its purpose, creating quick distribution and demand on the part of the trade and the consumer (general public.) The advertising and promotional cost, however, of stimulating quick distribution, sales and consumer demand was tremendous. Although Hinze Ambrosia, Inc's. books showed substantial losses, I doubt that a fair review of the all-over picture, taking into consideration profit and absorbed overhead earned by Allied Products, Inc., the manufacturing unit, would indicate too drastic a loss far what was accomplished in the way of dealer relations, quick distribution and sales.

"You will recall this company was established and caught in the depths of the depression years including the bank holiday. About 1933 a re-organization was effected. Company salesmen, in most instances, were replaced with local and sectional territory sales agencies operating large staffs of contact men on a percentage basis. Advertising was substantially reduced and a period of re-adjustment ensued. If I recall correctly the company has shown Profits for the last 7 or 8 years, which when considered percentage wise, are fairly substantial. During this period of re-adjustment every effort has been directed at adjusting and cleaning out merchandise that accumulated on dealers shelves as a result of price changes, changes in sizes of package, obsolete free goods and premium deals."

"This in a brief way brings us up to the present time.

"Our dealer and trade relationship is on the highest level. I am almost certain that the trade throughout the country is anxious to cooperate with US in every way possible, providing we will give them the opportunity to work with us. Under present war conditions, we are restricted by supplies and production facilities. Sales are far in advice of potential or anticipated production and this condition will no doubt continue until both the German and Japanese Wars have been concluded."
Mr. Gabrielsen goes on to complete this nine-page "resume" with facts and figures that demonstrate positive business potential of Hinze Ambrosia, Inc. In her book entitled, Avon Bottles...By Any Other Name, Dee Schneider recounts that Hinze Ambrosia, Inc. "ceased operations on July 1, 1954, and was dissolved on November 4, 1954."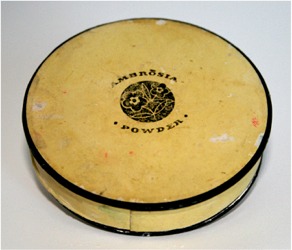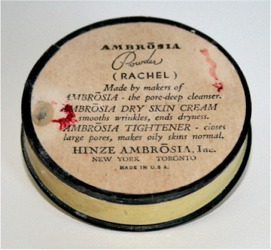 Ambrosia Powder
~Probably Late-1940's to early-1950's
Dimensions: 2 1/2 in. diameter and 1/2 in. tall
The name "Ambrosia" was discovered in an early 20th century U.S. Patent Office filing by Dee Schneider as she intently researched the early history of the California Perfume Company. In her book, Avon Bottles...By Any Other Name, Mrs. Schneider related that
"[o]n September 4, 1902, an application was filed with the United States Patent Office for a Trade-mark for toilet waters and perfumes by Louis H. Pearce of Buffalo, New York. Mr. Pearce was then doing business at No. 384 Main Street In that city and had been doing so continuously since 1875. He wanted the trademark for use on bottles of toilet preparations, the printing of [catalogs], circulars, cards and other advertisements. Toilet waters and perfumes were his specialty, and the trademark he requested consisted of the arbitrary word "Ambrosia,"...

"We find that on December 6, 1932, another application was filed with the United States Patent Office, a trademark of the same word "Ambrosia" but of a different artistic design. This was applied for by Hinze Ambrosia, Inc., doing business at 114 Fifth Avenue, New York, New York. It states that this [second] symbol had been used since March 14, 1931 by Hinze Ambrosia Preparations Company, Inc., dated May 28, 1929. It was wanted for use on Face and Skin Cream. The application was signed by D. H. McConnell, Jr., President. (David H. McConnell, Jr. was the son of the founder of the Avon Company.) The address is the same as that used by the California Perfume Company, which was the name of the parent company at that date. They used this address from 1926 to 1937. There is another [third] trademark patent from March 6, 1933, bearing the same address and the same signature — D. H. McConnell, Jr., President.

"It Is said that the "Ambrosia" product line was McConnell, Jr.'s "baby", that he felt the Company should branch out, and used this method of Introducing a different name for merchandise to be sold under in drug stores, department stores and other commercial out- lets. He was 27 1/2 years old when he became president of the Hinze Company. He was 36 the year his father died and he became president of Avon."

Excerpts from Avon Bottles...By Any Other Name, C. 1974, Dee Schneider
For a more detailed explanation of Hinze Ambrosia Preparations Company and its relation to the California Perfume Company, please see the excellent, detailed work of Dee Schneider in her Avon Bottles...By Any Other Name.
There was another interesting connection between the California Perfume Company/Avon Products, Inc. and the Hinze Ambrosia Preparations Company: the use of similarly designed bottles. The half-circle shaped Ambrosia Cologne bottle seen immediately below was also the shape of such items as the 1940's Swan Lake Bath Oil (seen and compared below), the 1940's Royal Pine Bath Oil, and the 1950-51 Cream Lotion.

Ambrosia Cologne
~Late-1940's to early-1950's
Dimensions: 3 1/8 in. tall x 1 3/8 in. wide; Vol.: 0.8 Fluid Ounces


A Side View Comparison of the Ambrosia
Cologne and Swan Lake Bath Oil Bottles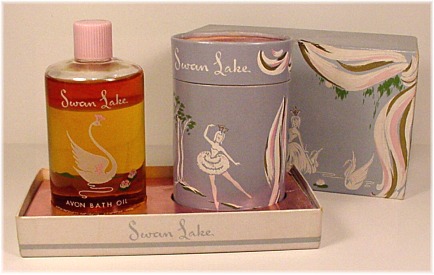 The Swan Lake Two-Piece Set
~1947-1948
One last interesting item relating to the Hinze Ambrosia product line: a hotel complimentary guest pack.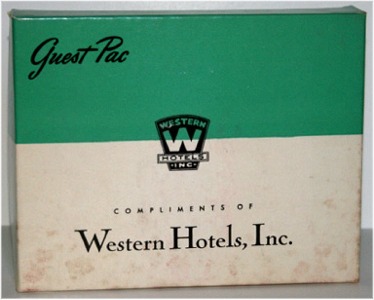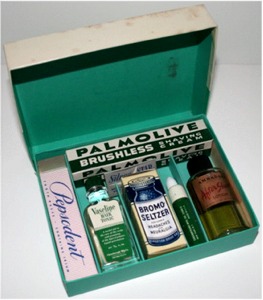 "Guest Pac" Set, Compliments of Western Hotels, Inc.
~Late-1940's to early-1950's
Note: This complementary —FREE—pack of amenities is probably the one element of the aggressive advertising mention by Mr. Gabrielsen above.
The 0.8 Fluid Ounce bottle of Hinze Ambrosia After Shave (also seen at the top of the page) is located in the Guest Pac's lower right-hand corner.
If you have any information concerning Hinze Ambrosia, Inc., please contact me at george (at) californiaperfumecompany.com.