Book Publishing
The last book published within the offices at 126 Chambers Street, New York, came in 1901 and was titled, "The Authentic Life of William McKinley," written by Alexander K. McClure and Charles Morris; published by the California Perfume Company (not the Union Publishing House.)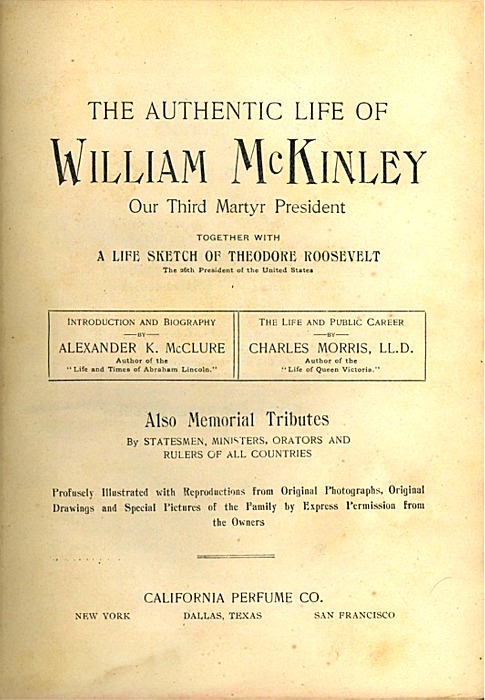 Title Page from the Book, The Authentic Life of William McKinley
published by the California Perfume Company
~1901
The California Perfume Company was built on the foundation of a book-publishing business: the Union Publishing House. In a 1935 historical accounting entitled, "Mr. McConnell and the California Perfume Company," the unknown author writes, "...Mr. McConnell's ambition was to manufacture a line of goods that would be consumed and used up. He felt that the selling techniques of the book canvassers could be applied to this line, with equal success. He believed that the proper and most advantageous way of selling goods was to be able to submit the goods themselves to the people. It seemed to him that the perfume business afforded the very best opportunity to build up a permanent and well-established trade." And upon that discovery (that perfumes "afforded the best business opportunity"), he began the transition of the Union Publishing House into the California Perfume Company. Though not firmly established, the transition of the efforts, assets, and company direction from book publishing to perfume and toiletry manufacturing was probably around 1895 to 1896. Yet a mere five years later, another book was published in the offices at 126 Chamber Street.
Clearly this book was a very special effort undertaken by McConnell. As conveyed by seasoned CPC and Avon collector, Mr. George Gaspar, "David H. McConnell and William McKinley were very close friends. This book was McConnell's tribute to McKinley." "The Authentic Life of William McKinley," was McConnell's memorial to honor the United State's 25th President following his assassination on 6 September, 1901.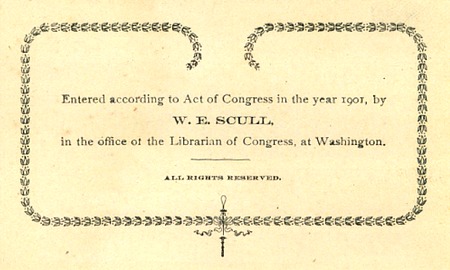 The Authentic Life of William McKinley
was entered into the Library of Congress in 1901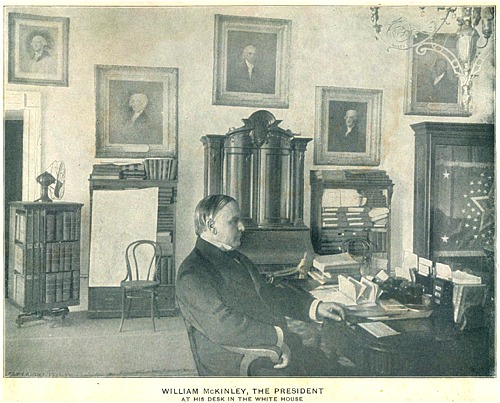 Picture of President McKinley found opposite the title page in the book,
The Authentic Life of William McKinley
Following is the text of an open letter from McConnell written to all the Depot Mangers:
California Perfume Co. New York San Francisco, Cal., Dallas, Tex. NEW YORK, October 7, 1901
TO OUR DEPOT MANAGERS:
We have all been much effected by the sad calamity which has befallen our Nation by the assassination and death of our beloved President.
It occurred to us that it would be most fitting and proper that we should publish a sketch of his life, feeling assured that every Depot Manager that we have, would like to purchase a copy of the work, and if this be true that our agents would like a copy, it must also be true that your friends, neighbors and acquaintances, would also want the book.
We have gotten up therefore a Biography, containing the authentic life of President McKinley. A story of anarchy's awful crime, and a life sketch of Theodore Roosevelt, and we intend to give our agents an opportunity of not only purchasing the book for themselves but of selling it.
You realize the work at this time must sell very rapidly, that the demand for it is very urgent, and I firmly believe that in giving you an opportunity at this time to handle our own edition, you will be able to do good work.
Of course this must not interfere with your taking orders for the California Perfume Co's goods, and whatever is done in the way of your canvassing for the Biography must be done at once.
Our edition will consist of 10,000 copies, and we must dispose of them between now and November 15th, therefore, you will see the necessity of starting right in with the work.
It is necessary that you have a prospectus or copy of the book. The prospectus is gotten up very handsomely with 33 illustrations, and we will send you this prospectus for 25 cents, which will include the cost of mailing.
The retail or selling price of the book is $1.50 for cloth binding, and $2.00 for keratol morocco binding, subject to your usual commission of 40%. Thus, making a profit to you on every book of 60 cents or 80 cents. I firmly believe that nearly every agent can sell 100 copies of this work, between now and November 15th, making a net profit to them of $60.00 or more, others will be able to sell from 200 to 250 books, showing a profit of $120.00 to $150.00. There is certainly not an agent in the field to-day but who can sell 50 copies, should they only see their friends and acquaintances.
Of course we intend to include your sales of this book on your [Christ]mas prizes, so that you will readily appreciate what a decided advantage the handling of this book during the next 4 weeks will be towards your winning the prize, you have set out to obtain!
The enclosed circular gives a full and complete description of the work, and we will ask that you read it over very carefully. Then write us to send the prospectus. Remember, there is no time to lose, that just now, every one wants the work, and if you are going to sell it, it must be sold within the next four weeks. In order that we might have the books ready for you, we will ask each week that you work on this special book, that you will fill out the enclosed report and send it to us; this is very important.
Believing that all our agents will thoroughly appreciate our patriotism and good feeling in getting out this authentic edition of President McKinley's life, and awaiting to hear from you at once, I remain, Yours very truly,
CALIFORNIA PERFUME CO., - D. H. McConnell, Pres.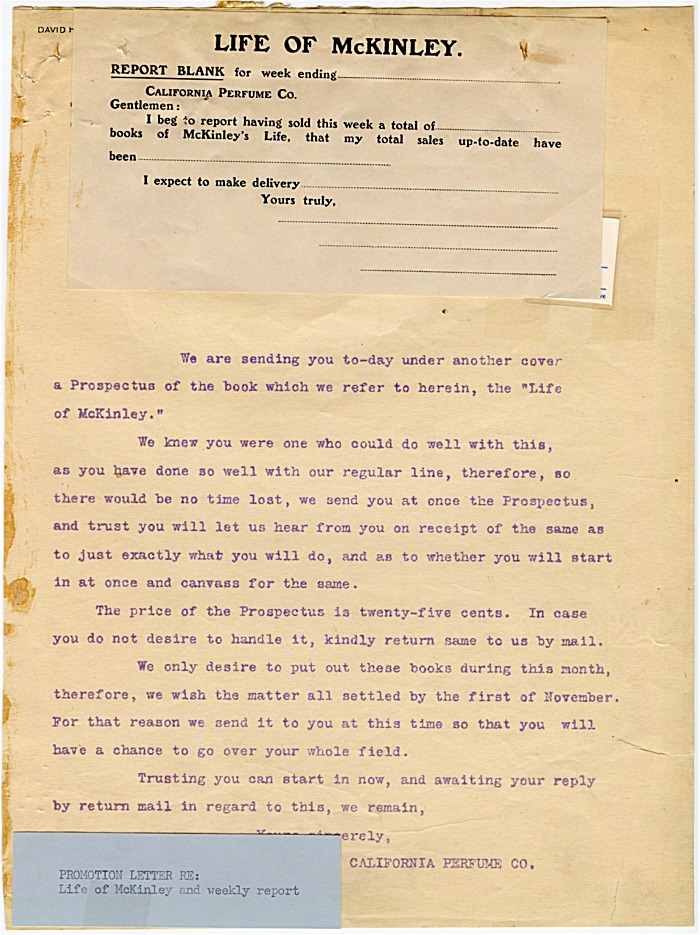 The Authentic Life of William McKinley Promotion Letter with Weekly Report Attached
~1901
Note: This Letter is part of the Avon Archives maintained by the Hagley Museum and Library. Picture Used by Permission.
If anyone has further information related to the Union Publish House, 126 Chambers Street, NY, or the publishing of books by the California Perfume Company, please contact george (at) californiaperfumecompany.com.