A Tribute to My Friend Mr. Richard Pardini

1930-2013
Main Navigation | Collector's Corner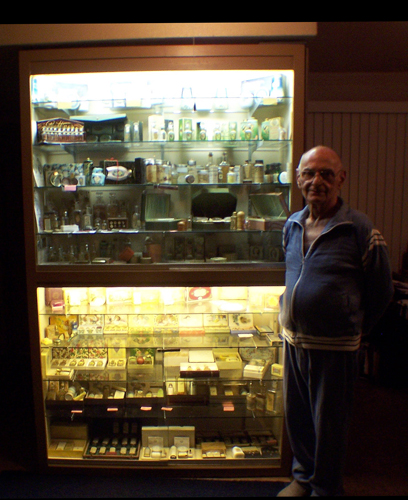 Mr. Richard (Dick) Pardini in front of his exquisite collection of the rarest California Perfume Company treasures
~February 2006
A privilege and an honor...
On Saturday, 13 April 2013, one of the "greats" of California Perfume Company collecting, and an especially dear friend of mine, passed from this earth.
I wish to honor the memory of my friend Mr. Richard Pardini, (Dick) and his precious wife Beverly, and try to convey just how important he was...more so they were...to our excellent hobby and to my personal CPC and Avon collecting adventure.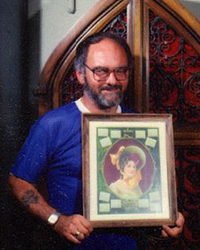 Dick with a rare
1910 CPC Calendar
I met Dick around 2002 to 2003 while I was selling a few of my CPC Outlook and Bulletin duplicates on e-Bay. As I later found out, Dick wasn't really all that interested in purchasing the Outlooks; he was much more interested in establishing contact with a fellow CPC collector. I am so thankful for Dick's reaching out to me because that began the wonderful relationship we enjoyed from that time forward...and a relationship I will always cherish.
Admittedly, I cannot speak to Dick's and Beverly's (affectionately known as Bev) exploits during the hey-days of Avon collecting. Though I can say this with confidence: Dick and Bev were definitely leading the charge! As Dick explained during several of our conversations, he and Bev, pioneered the Stockton Avon Collector's Club that realized a membership role of over 50 people. As importantly, Dick was a board member of the National Association of Avon Collectors (NAAC). Their influence stemmed the breadth of the United States and abroad as they interacted both personally and through correspondence with collectors world-wide—most of whom they met at the many NAAC conventions they attended through the years. Dick's and Bev's gregarious natures were known by all. Their impact, and now our loss, will be felt for years to come.
Sadly, Bev preceded Dick in pass on 30 November, 2011. May they ever be together in God's care.
About the collection: without doubt, Dick and Bev amassed a spectacular collection comprising many of the oldest and rarest items known to CPC collecting...like the mint, boxed 1903 Eau de Quinine Hair Tonic; a beautiful 1898 Lait Virginal Toilet Water; a mint 1915 American Ideal Gift Box G; the 1918 Marvel Silver Cleaner; and so many others. Truly, Dick and Bev were the connoisseurs of CPC and Avon collecting.
One short story I want to quickly share...for years and years, Dick worked on completing one particular set: a 1915 Representative's Extract Sample Kit (the thatched case with 20 one-ounce bottles). I remember Dick asking me if I possessed any of these needed one ounce bottles from the time we first met. He would raise the topic during our discussions from time to time to see if I had come across any. Over the years, Dick ran across one here and one there, steadily adding to his kit. When Dr. Levitt began selling his massive collection in the Spring of 2012, Dick was able to secure a few of these one ounce extract bottles. And finally...finally Dick only needed ONE MORE bottle. Just one more...that's it. And as you might guess, a one ounce bottle that would "complete" his prized set did come up for auction on e-Bay. Dick managed to secure that bottle!!! I know that the bottle arrived to Dick's home about four days before Dick passed. He DID complete his 1915 Representative's Extract Sample Kit! Constant, steady, never giving up!! He finally finished his set!
It was nothing less than an honor, a real honor, to have known Dick and to have shared in his CPC passion.
And I am truly blessed to share that a short time ago, we also shared a passion for our Lord and Savior Jesus Christ.
I will miss him. We all will miss him.
Please enjoy some memories as shared by Dick's son, Rick Pardini:

Dick with his Great Grandchild, Riley Ann
May 2012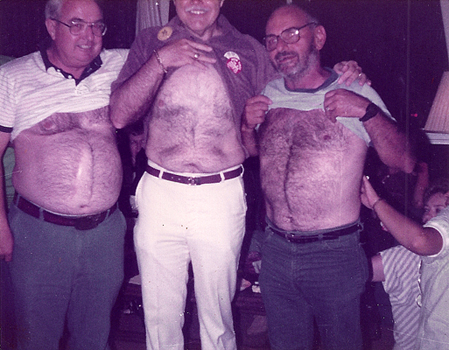 Boys Will Be Boys!!!
(From Left to Right: Bill Armstrong, Dwight Young, and Dick Pardini)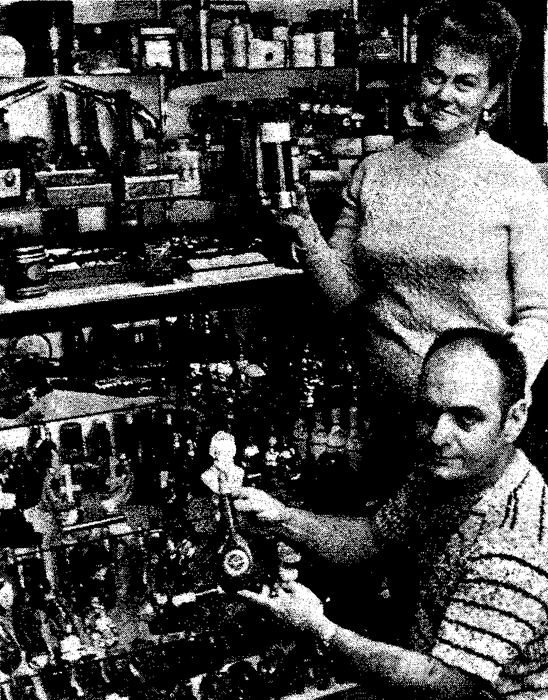 RICHARD AND BEVERLY PARDINI SHOW RARE BOTTLES
His Hobby
Is Avon Bottles
by Clyde Reiehelt

About a month ago Richard Pardini found a half ounce empty bottle at a flea market in Gait — it was a rare find and now has a place of honor in his Avon bottle collection.
The tiny container bears the date, 1886, and the label, California Perfume Co. of Manhattan, New York, Avon's forerunner and a company born of women's desire for toilet water over Shakespeare.
Back in the 1880's David H, McConnell walked door to door in New York City selling volumes of Shakespeare and giving away bottles of perfume with each sale.
When he found the perfume more in demand than Shakespeare he borrowed $500 from a friend in California and opened California Perfume Co. It became the Avon Corp. in 1939.
Pardini began collecting seriously about two years ago and now has more than 3,000 bottles and other Avon items in glass enclosures in his home at 3107 N. El Dorado.
The collection, says Bud Hastin, who has traveled, throughout the United States, Canada, Europe and the Far East gathering material for his Avon encyclopedias, is one of the finest in the nation.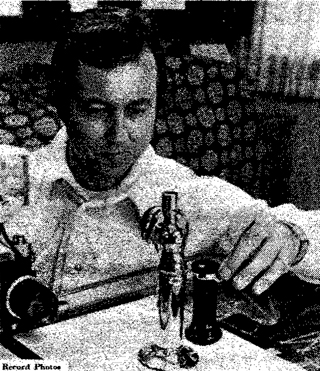 BUD HASTIN POSITIONS BOTTLE
Pardini and Hastin met some two years ago at an Avon hobby show in Sacramento. Last week Hastin, who works out of Kansas City, Mo., was in Stockton taking pictures of the Pardini collection for possible use in a new encyclopedia.
Besides his 1886 bottle, Pardini counts among his best an uncommon Avon cologne flask and replicas of cap and ball pistols. The pistols, especially the set in the blue case, are scarce simply because so few were marketed when they were issued seven years ago.
Another of his favored gems is a set of five jewel-shaped perfume bottles that had a limited issue from a Canadian Avon factory in Pardini doesn't need to travel outside of California for his collection to grow and grow.
He buys and trades here, watches the flea markets and antique shops in the area, and keeps both ears open for news about other collectors.
"Any way to get a bottle, " he says.
(Article copied from the Stockton Record newspaper, approx. 1973)